🎃 Halloween Emoji
Halloween emoji meanings
Halloween emojis are commonly used with spider webs, ghosts, Jack-O-Lantern, and scary movies. Mostly named as happy Halloween emoji. Pumpkin spice lattes, king-sized candy bars, and falling leaves represent Halloween and autumn. Emoji Halloween can also be used with spooky things in general and used as food or as a term for endearment. It represents the Halloween event.
Halloween is a holiday derived from ancient Celtic harvest events, and today it is celebrated all over the world on the night of 🍁 31 October to 🍂 1 November. On this day, people arrange themed fairs and parties. They decorate shopping centers and houses, sell horrifying costumes, and so on. People use Halloween symbols copy and paste when they wish their family and friends the Halloween festival. For example Pumpkin day 🎃🌕🌕 and Happy Halloween Day! 🎃🎃😈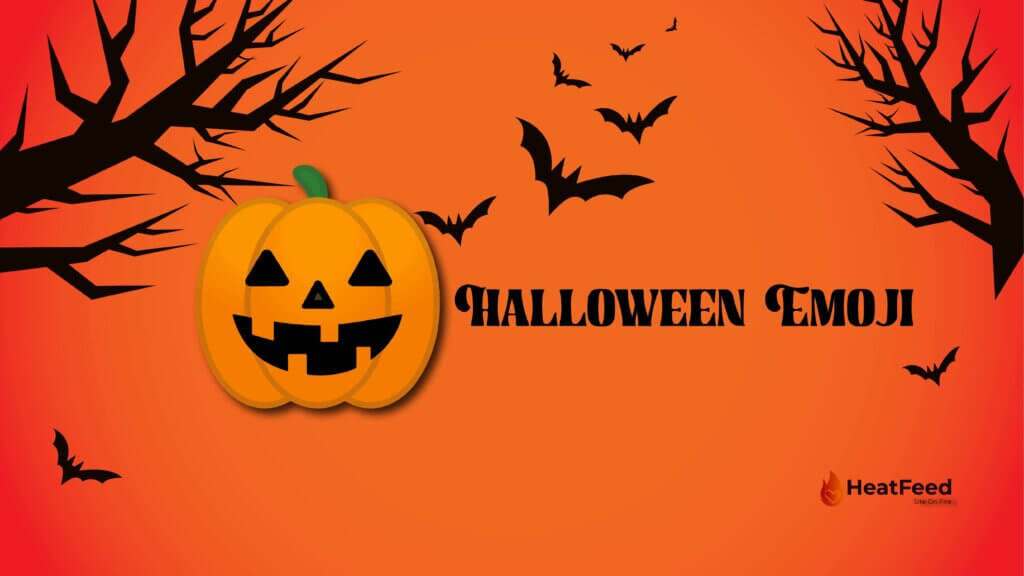 How to Copy and Paste Halloween Emoji?
You can easily copy and paste the Halloween emoji copy and paste by using heatfeed.com. You have to just perform a few steps to copy this emoji, which are given below:
The first step is to go to heatfeed.com. Find the Halloween emoji and click on it.
Click on the copy icon and it will immediately copy into your system.
Similar Emojis
There are related Halloween emojis and their list are 🎭 Performing Arts, 🕯️ Candle, 🧞 Genie, 🧟 Zombie, 🎃 Jack-O-Lantern, 🔮 Crystal Ball, 🕴️ Person in Suit Levitating, 🐈‍⬛ Black Cat, 🦄 Unicorn, 🦇 Bat, 😈 Smiling Face with Horns, 👿 Angry Face with Horns, 🦉 Owl, 🕷️ Spider, 🕸️ Spider Web, 🗡️ Dagger, ⛓️ Chains, 🩸 Drop of Blood, ⚰️ Coffin, ⚱️ Funeral Urn, 💀 Skull, ☠️ Skull and Crossbones, 🤡Clown Face, 👹 Ogre, 👺 Goblin, 👻 Ghost, 👽 Alien, 👾 Alien Monster, 🤖 Robot, 😨 Fearful Face, 😰 Anxious Face with Sweat, 😱 Face Screaming in Fear, 🖤 Black Heart, 🕵️ Detective, 👸 Princess, 🧙 Mage, 🧚 Fairy, 🧛 Vampire, 🧜 Merperson, 🧝 Elf, 🥀 Wilted Flower, 🍫 Chocolate Bar, 🍬 Candy, 🍭 Lollipop, 🏚️ Derelict House, 🌃 Night with Stars, 🛸 Flying Saucer, 🌕 Full Moon, 🌚 New Moon-Face, 🌩️ Cloud with Lightning, ⚡ High Voltage each emoji represents a specific event, symbols, and meanings.
Apple



Apple

iOS 15.4

iOS 10.2

iOS 8.3

iOS 6.0

iOS 5.1

iOS 4.0
iPhone OS 2.2
Google



Google

15.0

Android 11.0

Android 8.0

Android 7.0

Android 5.0

Android 4.4

Android 4.3
Samsung


Samsung

One UI 4.0 January 2022

One UI 1.0

Experience 9.0

TouchWiz 7.1

TouchWiz 7.0

TouchWiz Nature UX 2
Microsoft



Microsoft

Windows 11 22H2

Windows 11 November 2021 Update

Windows 10 Anniversary Update

Windows 10

Windows 8.1

Windows 8.0
WhatsApp



WhatsApp

2.22.8.79

2.19.7

2.17
Twitter



Twitter

Twemoji 14.0

Twemoji 2.5

Twemoji 1.0
Facebook



Facebook

14.0

3.0

2.0

1.0
emoji copy and paste
emoji meanings
halloween emoji
halloween emoji meanings
happy halloween day