😰 Anxious Face with Sweat Emoji
😰 Emoji Meaning:
Emojis were designed to represent feelings symbolically. Anxious Face with Sweat emoji is a yellow face smiley with a slightly open mouth, round eyes, and a single drop of cold sweat on its forehead. The meaning varies widely, but it usually transmits feelings like truth, disappointment, fear, and anxiety.
NOTE: Anxious Face with Sweat was approved as a part of Unicode 6.0 in 2010 under the name "Face with Open Mouth and Cold Sweat" and added to Emoji 1.0 in 2015.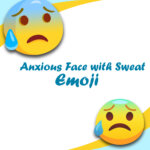 How to copy-paste the anxious face with sweat emoji?
The anxious emoji is one of the most used emojis on the internet. It is used to express difficult situations. If you ever want more than 10000 emojis copy and paste the emoji you can surely do it with heatfeed. Heatfeed emoji is one of the best emoji sites which can get you the emoji you like to copy or nervous emoji copy and paste. Follow the following steps and have emoji at your disposal.
1. Go to the site heatfeed.com and search for your emoji.
2. When you search for your emoji, you can copy-paste it from the site by pressing the button commanding so.
3. After copying it, you can paste it on your computer readily.
Similar Emojis:
There are some other emojis that are similar to the 😰 Anxious Face with Sweat emoji are 🥵 Hot Face, 😨 Fearful Face, and 😧 Anguished Face. Among many others, each emoji transmits a distinct message.
Also Known As
😰 Blue Emoji Face
😰 Concerned Face
😰 Nervous Face
😰 Worried Emoji
😰 Anxious Face Emoji
😰 Stress Emoji
😰Nervous Sweat Emoji
Apple Name
😰 Anxious Face with Sweat
Unicode Name
😰 Face with Open Mouth and Cold Sweat
Apple

Apple

iOS 14.6

iOS 10.2

iOS 10.0

iOS 8.3

iOS 6.0

iOS 5.1

iOS 4.0
iPhone OS 2.2
Google

Google

Android 12.0

Android 11.0

Android 10.0

Android 9.0

Android 8.0

Android 7.0

Android 5.0

Android 4.4

Android 4.3
Samsung

Samsung

One UI 3.1.1

One UI 2.5

Experience 9.0

TouchWiz 7.1

TouchWiz 7.0

TouchWiz Nature UX 2
Microsoft

Microsoft

Windows 10 May 2019 Update

Windows 10 April 2018 Update

Windows 10 Anniversary Update

Windows 10

Windows 8.1

Windows 8.0
WhatsApp

WhatsApp

2.21.11.17

2.19.7

2.17
Twitter

Twitter

Twemoji 13.1

Twemoji 1.0
Facebook

Facebook

13.1

3.0

2.0

1.0
Messenger

Messenger

1.0
Codepoints
😰 U+1F630
Shortcodes
:cold_sweat: (Github, Slack)
Anxious Face with Sweat Emoji
emoji copy and paste
emoji meaning
Smiley Emoji