😱 Face Screaming in Fear Emoji
Face Screaming in Fear Emoji
😱 Emoji Meaning:
Emojis were designed to represent feelings symbolically. Face Screaming in fear emoji is a face with a blue color on the upper half and a yellow hue on the bottom half. This emoji has pale, white oval eyes, an oval and wide-open, toothless mouth, and two yellow structures on either side that symbolize the hands holding the face.
The smiley is frequently used to express extremes of emotion, both positive and negative. It depicts a strong sense of fear, anxiety, panic, and dread. It's also occasionally used to express intense surprise, astonishment, or disbelief.
NOTE: In 2010 as part of Unicode 6.0, Face Screaming in Fear has been approved and in 2015, added to Emoji 1.0.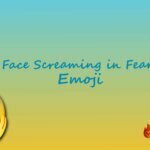 How to copy-paste a face screaming with tears emoji?
The face screaming with tears emoji copy and paste feature is easy to utilize. you should make it happen on a genuinely strong site.do it on heatfeed.com which has 10000 emojis copy and paste them into the record. Follow these steps to scream emoji copy and paste
1. Go to the site heatfeed.com to copy the emoji.
2. Search your favorite emoji using the navigation toolbar.
3. Right after your emoji is being searched, copy it through the copy button.
4. Paste it on your social media handlers.
Similar Emojis:
There are some other emojis that are similar to 😱 Face Screaming in Fear emoji 😨 Fearful Face, 🙀 Weary Cat, 😩 Weary Face, and 😮 Face with Open Mouth emoji. Each emoji transmits a separate message among many others.
Also Known As
😱 Home Alone Emoji
😱 Scream Face Emoji
😱 Shock Emoji
😱 Screaming Face
😱 Emoji OMG
😱 Scray Emoji
😱 Shocked Emoji Face
Apple Name
😱 Face Screaming in Fear
Apple

Apple

iOS 14.6

iOS 10.2

iOS 10.0

iOS 8.3

iOS 6.0

iOS 5.1

iOS 4.0
iPhone OS 2.2
Google

Google

Android 12.0

Android 11.0

Android 9.0

Android 8.0

Android 7.0

Android 5.0

Android 4.4

Android 4.3
Gmail
Samsung

Samsung

One UI 3.1.1

Experience 9.0

TouchWiz 7.1

TouchWiz 7.0

TouchWiz Nature UX 2
Microsoft

Microsoft

Windows 10 May 2019 Update

Windows 10 April 2018 Update

Windows 10 Anniversary Update

Windows 10

Windows 8.1

Windows 8.0
WhatsApp

WhatsApp

2.21.11.17

2.19.62

2.17
Twitter

Twitter

Twemoji 13.1

Twemoji 1.0
Facebook

Facebook

13.1

4.0

3.0

2.0

1.0
Messenger

Messenger

1.0
Codepoints
😱 U+1F631
Shortcodes
:scream: (Github, Slack)
emoji copy and paste
emoji meaning
Emoji Smiley
face screaming in fear emoji