🤡 Clown Face Emoji
Emoji Meaning: 
The clown face emoji from a circus or birthday party shows a white makeup face, a red nose, large eyes, a broad grin, and two hair tufts (red or blue). This smiley is commonly used as a comment on TikTok or other social media platforms to signify that a person is stupid, ignorant, and/or greedy. This joker face emoji is used to describe something that is spooky or frightening, or it can also be used in a sense of "Oh dear just kidding". Often used as a derogatory nickname for Donald Trump.
The Clown Face emoji is also used to express something that is creepy and scary. But there are many other emojis that have the same meanings and can be used as a combination with the clown face emoji. These similar emojis are 😈 Smiling Face with Horns, 😨 Fearful Face, 👿 Angry Face with Horns, 🎠 Carousel Horse, 😱 Face Screaming in Fear. you can also copy and paste a number of emojis from different social websites including heatfeed.com which offers you almost 10000 emojis copy and paste facilities without any charges. 
NOTE: In 2016, the Unicode 9.0 for the Clown Face was approved and included in Emoji 3.0.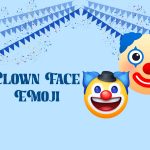 How to Copy and Paste the Clown Face Emoji?
Clown emoji copy and paste is a very simple process that includes different but easy steps to follow. Now it is quite easy to use any social website for copying the desired emojis. These steps include:
To explore heatfeed.com on your required and available device. 
Search for the required emoji to be copied and pasted. 
Click on the ''Copy'' Icon to copy the emoji. 
The emoji has been copied successfully. 
Now it's ready to paste anywhere according to your needs and requirements. The trend of using emojis is getting too much popular on all of the trending platforms. These emojis make a complete sense of your ordinary words. They also make your text attractive and eyecatching.
Similar Emojis:
The clown face emoji can also be used with a combination of its relevant emojis that have the same meanings. There are many such emojis that have the same meaning as the clown face 🤡 emoji have such as 🤹 Person Juggling, 🪄 Magic Wand, 😈 Smiling Face with Horns, 😱 Face Screaming in Fear, 🥳 Partying Face, 😨 Fearful Face, 👿 Angry Face with Horns, 🐘 Elephant. all these emojis are quite related to that clown face emoji. 
Also Known As
🤡 Joker Emoji
🤡 Comical
🤡 Evil Clown
Apple Name
🤡 Clown Face
Codepoints
🤡 U+1F921
Shortcodes
: clown_face : (Github, Slack)
copy & paste emoji
emoji
emoji copy and paste
emoji meaning