👿 Angry Face With Horns Emoji
Angry Face with Horns Emoji
👿 Emoji Meaning:
Emojis were used to represent feelings symbolically. Angry Face with Horns is a purple face with low, frowned eyes, deadly eyes, and a sad mouth curve, with two purple horns. This demon smiley shows wrath, anger, rage, resentment, and bitter hatred.
It is also possible to use a group of similar emojis to express your emotions and feelings on any of the social media platforms. Some of the related emojis to angry faces with horns emoji are 😠 Angry Face and 😡 Pouting Face. because thee also give the same meaning as an angry face with horns emoji gives. The use of these emojis is going on increasing with the passage of time. A number of social platforms offer more than 10000 emojis copy and paste options for their users.
NOTE: As part of Unicode 6.0 in 2010 Angry Face with Horns was authorized under the name Imp, adding in 2015 Emoji 1.0.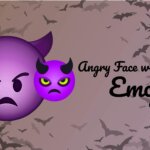 How to Copy and Paste Angry Face with Horns Emoji?
Angry face with horns emoji copy and paste is a very simple and easy process. If you are exploring heatfeed.com for the very first time to copy the desired emojis, you have to follow some of the given instructions including
Opening the website heatfeed.com on your available device.
Search for the required emoji from the heatfeed.com website.
Press the icon ''Copy''.
Your desired emoji has been copied.
Now it is quite easy to use the copied emoji. You are free to paste the copied emojis on any of the desired social networking platforms without having any problems. These emojis will add value to your ordinary words and make them unique and effective. You will be able to transfer your exact feelings and emotions by using these relevant emojis in your digital conversations.
Similar Emojis:
👿 Angry Face with Horns is identical to the 😈 Smiling Face with Horns emoji. Among many others, each emoji transmits a unique message. Users also use many related emojis in a combination of an angry face with horns emoji. Such related emojis are 😠 Angry Face, 🤡 Clown Face, 😖 Confounded Face, 😤 Face with Steam From Nose, 👺 Goblin, 👹 Ogre, 😡 Enraged Face, 🤬 Face with Symbols on Mouth, 🤘 Sign of the Horns, 💀 Skull, ☠️ Skull and Crossbones, 😈 Smiling Face with Horns, 🦹 Supervillain.
Also Known As
👿 Devil Emoji
👿 Imp Emoji
👿 Smiling Imp
👿 Devil Horns Emoji
👿 Purple Devil Emoji
👿 Purple Goblin
👿 Sad Demon
👿 Devil Face Emoji
👿 Evil Emoji
Apple Name
👿 Angry Face with Horns
Unicode Name
👿 Imp
Apple

Apple

iOS 14.6

iOS 11.1

iOS 10.2

iOS 10.0

iOS 8.3

iOS 6.0

iOS 5.1

iOS 4.0
iPhone OS 2.2
Google

Google

Android 12.0

Android 11.0

Android 8.0

Android 7.0

Android 6.0.1

Android 5.0

Android 4.4

Android 4.3
Gmail
Samsung

Samsung

One UI 3.1.1

Experience 9.1

Experience 9.0

TouchWiz 7.1

TouchWiz 7.0

TouchWiz Nature UX 2
Microsoft

Microsoft

Windows 10 May 2019 Update

Windows 10 Anniversary Update

Windows 10

Windows 8.1

Windows 8.0
WhatsApp

WhatsApp

2.21.11.17

2.19.7

2.17
Twitter

Twitter

Twemoji 13.1

Twemoji 2.6

Twemoji 2.4

Twemoji 1.0
Facebook

Facebook

13.1

3.0

2.0

1.0
Messenger

Messenger

1.0
Codepoints
👿 U+1F47F
Shortcodes
:imp: (Github, Slack)
angry face with horns emoji
emoji copy and paste
emoji meaning
Smiley Emoji