☠️ Skull And Crossbones Emoji
Skull And Crossbones Emoji
Skull And Crossbones Emoji Meaning:
Skull and Crossbones emoji is basically a human-like skull in a gray-white cartoon character, with dark, huge eye sockets, having a crossed pair of bones. This skull emoji is associated with danger, death, gravestone sculptures, misery, and fear. It might be used to represent numerous pirate characters or mascots. It is the most popular smiley throughout the Halloween season. It's important not to mix this up with Skull emoji, as the applications may overlap.
Skull and bones emojis may also be used along with similar emojis. Because they give the same meaning as the skull crossbones emoji give. These similar emojis are 💀 Skull and 🤖 Robot. Our website heatfeed.com offers its users more than 10000 emojis copy and paste in just a few seconds and in a few clicks. You can also find very exact and similar emojis for the desired one.
NOTE: In 1993 the Unicode 1.1 was approved for the Skull and Crossbones emoji and included this in Emoji 1.0 in 2015.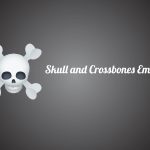 How to Copy and Paste Skull and Crossbones Emoji?
Skull and crossbones emoji copy and paste is a very easy and simple process. There are very few simple steps to follow while going to copy and paste the required emojis from heatfeed.com the most trending website. These simple steps include:
Explore heatfeed.com on your digital device.
Search for the desired emoji by using the website.
Have to press the ''Copy'' icon.
The emoji has been copied successfully.
Today the use of emojis is getting popular and increasing rapidly. So all the social networking platforms use these emojis to make their conversations authentic and straightforward. Using these emojis makes sure to deliver the exact meaning of your sentence. So you can paste the copied emojis either in comments, conversations, profiles, or bios.
Similar Emojis:
There are some other emojis exits that are similar to skull and crossbones ☠️ are Skull emoji 💀, Pirate Flag 🏴‍☠️, Black skull and crossbones 🕱, Headstone 🪦, ☢️ Radioactive, 🤖 Robot, 🏴‍☠️ Pirate Flag, 👽 Alien, 😈 Smiling Face with Horns, 🚬 Cigarette, and many others emojis are used to show different messages and meanings.
Also Known As
☠️ Death Emoji
☠️ Halloween Emoji
Apple Name
☠️ Skull and Crossbones
Codepoints
☠️ U+2620
U+FE0F
Shortcodes
: skull_and_crossbones : (Github, Slack)
copy & paste emoji
emoji
emoji copy and paste
emoji meaning