💀 Skull Emoji
Skull Emoji Meaning:
What does the skull emoji mean? The 💀 emoji is the gray, cartoon-style human 💀 having black, large eye sockets. And used to express figurative death like frustration, dying from extreme laughter 😂 💀, and affection.
Sometimes we use it as "I'm dead right now 😂 💀", but it does not mean actual death. It means I'm dead and my death is coming. It is also known as "GHOST ICON". Skull is available as an apple Animoji. Don't need to be confused with Skull and Crossbones ☠️, the application may overlap.
NOTE: The Unicode 6.0 of the skull was approved in 2010 and added to emoji 1.0 in 2015.
| | |
| --- | --- |
| Emoji | 💀 |
| Name | Skull Emoji |
| Meaning | Sign of figurative death like frustration |
| Unicode version | Unicode 6.0 |
| Emoji and IOS version | None |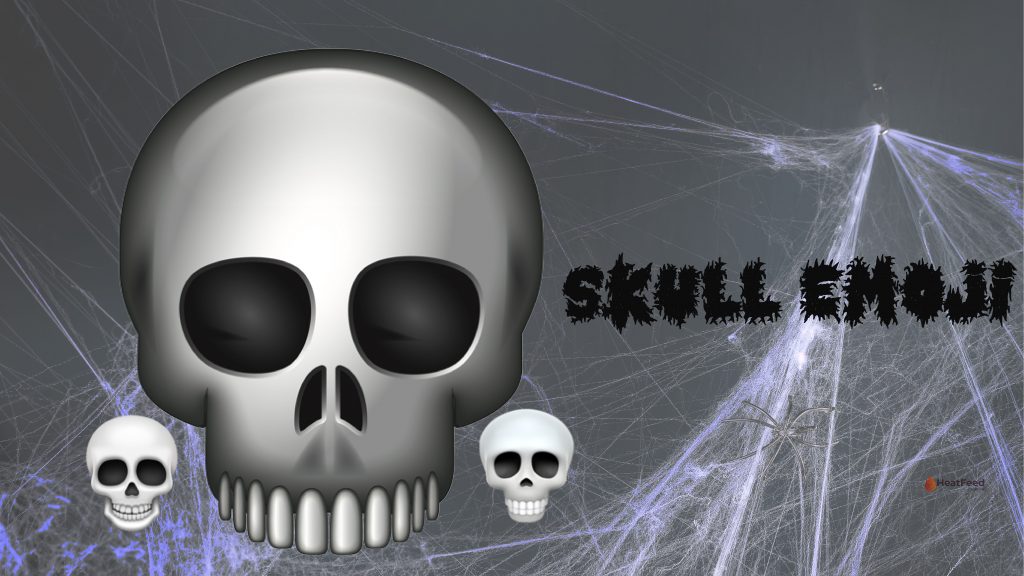 How to Copy and Paste Skull Emoji?
Heatfeed provides you with all types of skull emojis copy and paste on any platform. By following the steps that are given below, you will be able to get 10000 emojis copy and paste on any device online.
To get to know about skull emojis, go to the site https://heatfeed.com and click on Android skull emojis to copy them quickly.
They will be automatically copied on any device, by clicking on icons.
At this point, you will be able to paste these emojis on any platform you want.
Who uses 💀 Skull Emoji?
These combinations of skull emojis can be used by everyone to express deadly danger, dying from extreme laughter. Also used to indicate ghosts or as a symbol of someone being too skinny.
Lavish combination to use 💀 skull Emoji:
There is a list of lavish combinations to use these emojis in the text. These combinations are used to make messaging without words. Realistic Skull emoji copy and paste, android skull emoji copy and paste here easily.
Death of A Shadow – ​💀​👤​
Kill Bill – ​👰​🔪​💀​💵​
Corpse Bride – ​💀​👰​
Lethal Weapon – ​💀​👤​🔪​
Men In Black – ​👨​⬛​💀​
Kiss Of Death – ​👄​💀​
License to Kill – ​🎫​🔫​💀​
Dead Man – ​💀​👨🏻​
Evil Dead – ​👿​💀​
Suicide – ​💉​💊​💀​
Mummy – ​👳‍💀​♀️​⚰️​
The Cat is gone – ​💀​🐈​😿​
Love brought to death – ​❤️️​😂​💀​
Halloween Costumes – ​👧​👗​🧑​🤡​👱‍♂️​💀​👩​👿​👩‍🦰​👻​
Sleepy Hollow – ​😴​💀​⭕​
Holy spirit – ​⛪​👻​💀​
Other Names of Skull Emoji:
The skull is an emoji that's very versatile in meaning. Some people call it the skull emoji, and others refer to it as the Human Skull Skeleton or Grey Skull. Instead of calling it Skull Emoji, some call it Dying From Extreme Laughter, Death, or Poisonous.
Wondering why one single symbol can have so many different names? It's true that in some cases, the answer is just because! As you may know, In 2010, the Unicode Consortium, the organization that approves new emojis for use on smartphones, launched a skull and crossbones icon in an attempt to bring more diversity to users' emoji keyboards. This can be seen with differences in appearance as well.
Similar Emojis:
Similar emojis exit as skull and crossbones ☠️, Pirate Flag 🏴‍☠️, 🐉 dragon, 🐲 dragon face, a 💩 pile of poo, 🦴 Bone, ❌ Cross Mark, ⚔️ Crossed Swords, 👽 Alien, 👿 Angry Face with Horns, 🎃 Jack-O-Lantern, 👹 Ogre, 🤖 Robot, and 😈 Smiling Face with Horns. Black skull and crossbones 🕱, Headstone 🪦, and many other smiley emojis show different messages and meanings. Our website heatfeed.com facilitates you with a variety of iPhone skull emoji copy and paste options in the search bar and you can also learn specific emoji meanings, Unicodes, shortcodes, and symbols of any emoji.
Also Known As
💀 Death Emoji
💀 Grey Skull
Skeleton Emoji 💀
💀 Dead Emoji
Apple Name
💀 Skull
💀 Skull Emoji look across various devices
The appearance of emoticons varies from device to device. Every manufacturer creates them according to their own ideas and concepts. Below is the emoji table that we create for you. So, you can check out how the 💀 emoji looks on different platforms like Instagram, Google, Twitter, Whatsapp, etc.
Apple
iOS 14.6
iOS 11.3
iOS 10.2
iOS 10.0
iOS 8.3
iOS 6.0
iOS 5.1
iOS 4.0
iPhone OS 2.2
Google
Andriod 12.0
Android 11.0
Android 8.0
Android 7.0
Android 5.0
Android 4.4
Android 4.3
Samsung
One UI 2.5
Experience 9.0
TouchWiz 7.1
TouchWiz 7.0
TouchWiz Nature UX 2
Microsoft
Window 10 May 2019 Update
Window 10 April 2018 Update
Window 10 Anniversary Update
Window 10
Window 8.1
Window 8.0
Codepoints
💀 U+1F480
Shortcodes
: skull: (Slack, Github)
emoji copy and paste
skull
skull emoji
skull emoji meaning