👽 Alien Emoji
Alien Emoji Meaning: 
The alien emoji is a classic grey or green alien face smiley with an oval, naked head, huge black eyes, and a small, welcoming smile. This supernatural emoji may indicate extraterrestrial life or themes related to outer space, although it most usually expresses a lighthearted sense of strangeness as if someone or something from another planet is out there.
There are also many emojis that can be used as a combination of alien emojis. For example, this emoji can also be used with a combination of the ghost emoji 👻 and ogre emoji 👹. Both of these emojis reflect the same meaning that something is not related to this world or something belongs to some other planet or world. 
NOTE: That weird face emoji become a part of Unicode version 6.0 in 2010 with the name "Extraterrestrial Alien" and in 2015 added to Emoji 1.0.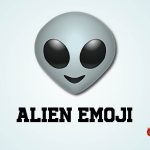 How to Copy and Paste the Alien Emoji?
Alien emoji copy and paste is a very simple and easy process. It just involves very simple steps to follow if you want to copy and paste any of the desired emojis from heatfeed.com. This is the best social website that is offering almost 10000 emojis copy and paste/10000 heart emoji copy and paste facility for its users without any cost or charges. To copy and paste emojis you have to follow these steps:
Search for heatfeed.com on your available device. 
Here, search for the required emoji to be copied and pasted. 
Click on the ''Copy'' icon. 
As you click the icon your emoji has been copied. 
Now, it's ready to paste anywhere on any of the social media platforms in just one click. It will add meaning and value to your ordinary text and sentences. You can paste the copied emojis on Facebook, Instagram, Twitter, and many other most popular and trending social platforms.
Similar Emojis:
In addition to the Alien emoji, there are many similar emojis that can have the same meaning individually and by adding two or three emojis in a combined form. There are many similar emojis including 👾 Alien Monster, 😈 Smiling Face with Horns, ☄️ Comet, 🌎 Globe Showing Americas, 🌏 Globe Showing Asia-Australia, 🌍 Globe Showing Europe-Africa, 🛸 Flying Saucer, 🌝 Full Moon Face, 🌟 Glowing Star, 🎃 Jack-O-Lantern, 👹 Ogre, 🌌 Milky Way, 🌚 New Moon-Face, 🌃 Night with Stars, 💩 Pile of Poo, 🖖 Vulcan Salute, 🤖 Robot, 🚀 Rocket, 🛰️ Satellite, 📡 Satellite Antenna, 🌠 Shooting Star, 💀 Skull, ☠️ Skull and Crossbones, 🔭 Telescope, ⭐ Star, 👩‍🚀 Woman Astronaut, 👨‍🚀 Man Astronaut.
Also Known As
👽 Alien
👽 ET
Apple Name
👽 Alien
Unicode Name
Codepoints
👽 U+1F47D
Shortcodes
: alien : (Github, Slack)
copy & paste emoji
emoji
emoji copy and paste
emoji meaning