💩 Pile of Poo Emoji
Pile Of Poo Emoji Meaning:
The Pile of Poo emoji is a brown swirl with huge eyes and a wide grin. As the name suggests, this emoji shows poop or poo, though some crazy people have called it chocolate. However, it is most commonly used as the name implies. This poop emoji conveys a sense of being silly, idiotic, stupid, humorous, and nasty. This smiley is commonly used to convey or demonstrate that someone or something is a pile of dung, or that they or it is pointless and a waste of effort. This poo emoji is commonly used to illustrate someone who is foolish enough and wastes their time on meaningless or useless pursuits.
A pile of poo emoji is being used to represent some feces and other conversations related to the bathroom. So there is also possible to use a combination of such related emojis to make your sentence most effective and meaningful. These similar emojis include🚽 Toilet, 🚺 Women's Room, 🧻 Roll of Paper, 🤮 Face Vomiting, 💨 Dashing Away, and 🐄 Cow. these all emojis also give the same sense as the pile of poo emoji gives. A lot of social websites including heatfeed.com are offering almost 10000 emojis copy and paste facilities to their users. These emojis will enhance the meaning of your sentence.
NOTE: The Unicode 6.0 of Pile of Poo was approved in 2010 and added to emoji 1.0 in 2015.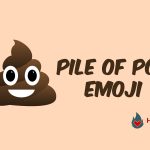 How to Copy and Paste the Pile of Poo Emoji?
Pile of Poo emoji copy and paste involves a very simple way and process. Users can easily copy and paste the desired emojis by following these simple steps:
Open the website heatfeed.com on your active device.
Search for the targeted emoji to be copied.
Click on the ''Copy'' icon.
The task is successfully completed.
Now you are free to paste the copied emojis either in comments, conversations, profiles or even in your bios. It is also possible to paste them on any of the popular and trending social media websites at any instant time.
Similar Emojis:
There are some other emojis exits that are similar to 💩 Pile of Poo that including 👾 Alien Monster, 🐄 Cow, 🍥 Fish Cake with Swirl, 💨 Dashing Away, 🐕 Dog, 🐶 Dog Face, 👽 Alien, 🤮 Face Vomiting, 👻 Ghost, 🤥 Lying Face, 🚹 Men's Room, 🪠 Plunger, 🚻 Restroom, 🤖 Robot, 🧻 Roll of Paper, 💀 Skull, 🚽 Toilet, 🚺 Women's Room, 🐩 Poodle.
Also Known As
💩 Dog Dirt
💩 Smiling Poop
Apple Name
💩 Pile of Poop
Codepoints
💩 U+1F4A9
Shortcodes
: poop : (Github, Slack)
: shit : (Github, Slack)
: hankey : (Github, Slack)
copy & paste emoji
emoji
emoji copy and paste
emoji meaning