🤮 Face Vomiting Emoji
Face Vomiting Emoji Meaning:
Emojis were used as a way to express feelings symbolically. Face Vomiting emoji is a yellow face smiley with furrowed brows, squeezed in eyes, and a wide-open mouth with green liquid spewing out, like vomiting. This vomit emoji represents a strong sense of revulsion or physical disease. This puke emoji is mostly used to express disgust rather than to express that you're sick.
NOTE: Under the name "Face with Open Mouth Vomiting" this vomit emoji was included as a part of Unicode 10.0 in 2017 and added to Emoji 5.0 in 2017.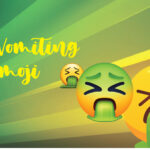 How to copy and paste the face vomiting emoji?
The face vomiting copy and paste option are used by various users. You can copy the emoji from sites like heatfeed which has 10,000 emojis copy and paste facilities. Follow the following procedure to copy your emoji.
Get to the website www.heatfeed.com
Search your fav emoji from the search bar here
Copy the emoji by pressing the icon 'copy the emoji'.
Paste it into your desired space.
Similar Emojis:
There are some other emojis that are similar to 🤮 Face Vomiting emoji are 🤢 Nauseated Face, 🤕 Face with Head-Bandage, 🤒 Face with Thermometer, and 😷 Face with Medical Mask emoji. Every emoji among many others passes on a singular message.
Also Known As
🤮 Spew Emoji
🤮 Throwing Up
🤮 Vomit Emoji
🤮 Vomiting Face
🤮 Grossed Out
🤮 Puking Face
🤮 Cringe Emoji
🤮 Disgusted Face
Apple Name
🤮 Vomiting Face
Apple

Apple

iOS 14.6


iOS 11.1


Google

Google

Android 12.0

Android 11.0

Android 10.0

Android 9.0

Android 8.0
Samsung

Samsung

One UI 3.1.1

Experience 9.0
Microsoft

Microsoft

Windows 10 May 2019 Update

Windows 10 Fall Creators Update
WhatsApp

WhatsApp

2.21.11.17

2.19.62

2.17
Twitter

Twitter

Twemoji 13.1

Twemoji 13.0.2

Twemoji 2.4

Twemoji 2.3
Facebook

Facebook

13.1

4.0

3.0

2.1
Unicode Name
🤮 Face with Open Mouth Vomiting
Codepoints
🤮 U+1F92E
Shortcodes
:face_vomiting: (Github, Slack)
:vomiting_face: (Github)
:face_with_open_mouth_vomiting: (Slack)
emoji copy and paste
emoji meaning
Face vomiting emoji
Smiley Emoji