🤥 Lying Face Emoji
Lying Face Emoji Meaning: 
Emojis were designed as a means of symbolically representing emotions. The lying face emoji is a yellow face smiley with raised brows, expanded eyes, a tiny frown, and an extended nose as if telling a lie in the style of Pinocchio. The emoji with that face indicates that something or someone is deceiving you. Sometimes want to express disbelief (e.g., You've got to be kidding) or embarrassment (e.g., as if caught in the act of lying).
Lying is bad. Not because you can get caught but because your route would be ruined if you become a pathological liar so rest assured that you won't get under the investigation of someone while using this emoji and lying at the same time. This emoji can be used in funny and frank situations.
NOTE: Lying Face was approved as a component of Unicode 9.0 in 2016 and added to Emoji 3.0 in 2016.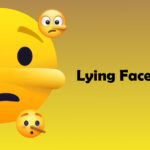 How to copy-paste the lying face emoji?
The lying face is about lying. When you lie you bring forth this emoji. This emoji should be used to show your lying habit in a fun way so that others don't hate it. So, for using the lying face emoji, do the right thing and copy-paste it from a reliable website. Do copy the emoji from the website called heatfeed.com. use the website to have your emoji readily
1. Get to the website for doing the copy of your emoji
2. Search the emoji you need to copy from the bar.
3. Once copied, paste it down and enjoy sending your favorite emoji.
Similar Emojis:
There are some other emojis that are similar to the 🤥 Lying Face emoji are 🤫 Shushing Face or 🤔 Thinking Face emoji. Among many others, each emoji communicates a unique message.
Also Known As
🤥 Liar Emoji
🤥 Long Nose
🤥 Pinocchio
🤥 Deceitful
🤥 Dishonest
Apple Name
🤥 Lying Face
Apple

Apple

iOS 14.6

iOS 10.2
Google

Google

Android 12.0

Android 11.0

Android 10.0

Android 9.0

Android 8.0

Android 7.0
Samsung

Samsung

One UI 3.1.1

One UI 1.0

Experience 9.0

TouchWiz 7.1
Microsoft

Microsoft

Windows 10 May 2019 Update

Windows 10 Anniversary Update
WhatsApp

WhatsApp

2.21.11.17

2.19.7

2.17
Twitter

Twitter

Twemoji 13.1

Twemoji 2.1
Facebook

Facebook

13.1

3.0

2.0
Codepoints
🤥 U+1F925
Shortcodes
:lying_face: (Github, Slack)
emoji copy and paste
emoji meaning
Lying Face Emoji
Smiley Emoji