😠 Angry Face Emoji
Angry Face Emoji Meaning:
Emojis were created to represent feelings symbolically. The angry Face emoji is a yellow face smiley with drooping and frowning brows, blank staring eyes, and a mouth that curves downward. This emoji is identical to the 😡 Pouting Face emoji, but it does not have a red face. It is used to express disapproval of someone's actions or as a reaction to something unpleasant.
NOTE: As part of Unicode 6.0, Angry Face has been approved in 2010 and added Emoji 1.0 in 2015.
| | |
| --- | --- |
| Emoji: | 😠 |
| Name: | Angry Face |
| Meaning: | Anger, frustration, annoyance |
| Unicode version: | None |
| Emoji and IOS version: | Emoji and IOS |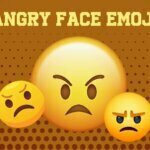 When was Angry Face added to the emojis category?
In 2010, the angry face emoji was approved under the Unicode 6.0 and then added to the smiley and people category in 2015. This emoji is the classic representation of anger.
How can you Copy-Paste Angry Face Emoji?
You can easily copy and paste your favorite emoji and more than 10000 emojis copy and paste by using our website heatfeed.com. You have to just follow the given instructions and then you are able to angry emoji copy and paste.
Visit our site heatfeed.com. Write the name in the search bar of the emoji that you want to copy.
Click on the emoji and then click on the Copy icon.
Now the emoji is copied on your device and you are able to paste it anywhere.
Who uses 😠 Angry Face Emoji?
People use this emoji to show their feeling of anger and frustration. If a girl or guy uses this emoji in their conversation it means they are in a bad mood. Some people use this emoji in response to someone's bad behavior.
Lavish combination to use 😠 Angry Face Emoji:
Lavish combinations to use these angry face emojis with other emojis to express your feelings more precisely. Below are the ideas to use this emoji in your text with other emojis.
This gets really annoying😠😡
This stupid device is broken again! 😠😫
I lost this game again 😠😩
I hate him 😠😡🤬
He didn't even deserve this gift 😤😠
Similar Emojis:
There are some other emojis that are similar to the 😠 Angry Face emoji are 😡 Pouting Face, 👿 Angry Face with Horns, 😈 Smiling Face with Horns, 🤬 Face with Symbols on Mouth, and 😾 Pouting Cat. Among many others, each emoji sends a particular message.
Also Known As
😠 Angry Emoji
😠 Mad Face Emoji
😠 Angry Face
😠 Rage Emoji
😠 >:(
😠 Annoyed Face
😠 Grumpy Face
Apple Name
😠 Angry Face
Apple

Apple

iOS 14.6

iOS 10.2

iOS 10.0

iOS 8.3

iOS 6.0

iOS 5.1

iOS 4.0
iPhone OS 2.2
Google

Google

Android 12.0

Android 11.0

Android 9.0

Android 8.0

Android 7.0

Android 5.0

Android 4.4

Android 4.3
Gmail
Samsung

Samsung

One UI 3.1.1

Experience 9.0

TouchWiz 7.1

TouchWiz 7.0

TouchWiz Nature UX 2
Microsoft

Microsoft

Windows 10 May 2019 Update

Windows 10 Anniversary Update

Windows 10

Windows 8.1

Windows 8.0
WhatsApp

WhatsApp

2.21.11.17

2.19.7

2.17
Twitter

Twitter

Twemoji 13.1

Twemoji 1.0
Facebook

Facebook

13.1

4.0

3.0

2.0

1.0
Messenger

Messenger

1.0
Codepoints
😠 U+1F620
Shortcodes
:angry: (Github, Slack)
angry face emoji
emoji copy and paste
emoji meaning
Smiley Emoji