🤬 Face with Symbols on Mouth Emoji
Face with Symbols on Mouth
Face With Symbols On Mouth Emoji Meaning:
Emojis were used to represent feelings symbolically. Face with Symbols on Mouth emoji is an angry-red face with a black bar and white grawlixes covering its mouth, indicating that it's cursing or being vulgar. Grawlixes are typographical symbols that represent swear words or obscenities for example: @#$ percent &!. This emoji represents the television equivalent of blurring explicit content.
This smiley show anger, indignation, and annoyance. The symbols here represent abusive words, cuss words, and everything else we say when we're angry. The red face here represents intense rage and a level of rage that is "boiling blood."
NOTE: In 2017, Face with Symbols on Mouth, under the name "serious face with mouth-covering symbols," was approved as part of Unicode 10.0.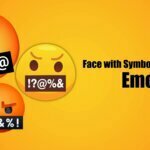 How to Copy and Paste the Face with Symbols on Mouth Emoji?
Face with Symbols on Mouth emoji copy and paste process involves simple and easy steps. There are a number of social websites that offers you to copy and paste the desired emojis but heatfeed.com offers its users up to 10000 emojis copy and paste facility. There are simple steps to swearing emoji copy and paste that include:
Open heatfeed.com on your device.
Search for the required emoji from the heatfeed.com website.
Press the ''Copy'' icon.
The task has been successfully completed.
You are completely free to paste the copied emojis on any of the most trending and popular social media platforms for impressing others. The use of such emojis makes your text and conversation more effective and unique because it reflects the actual meaning of your sentence.
Similar Emojis:
🤬 Face with Symbols on Mouth is similar to 🤭 Face with Hands over Mouth or 👿 Angry Face with Horns. Among many others, each emoji transmits a specific message. Some other emojis can also be used in addition to this face with symbols emoji that can give the same meaning. Such emojis include 😠 Angry Face, 😱 Face Screaming in Fear, 🤫 Shushing Face, 😤 Face with Steam From Nose, 😳 Flushed Face, 👿 Angry Face with Horns, 😡 Enraged Face, 🤯 Exploding Head, 😩 Weary Face.
Also Known As
🤬 Cursing Emoji
🤬 Cussing Emoji
🤬 Grawlix Emoji
🤬 Censored Mouth Emoji
🤬 Swearing Emoji
🤬 Cursed Emoji
🤬 Censored Emoji
Apple Name
🤬 Face with Symbols Over Mouth
Unicode Name
🤬 Serious Face with Symbols Covering Mouth
Apple

Apple

iOS 14.6

iOS 11.1
Google

Google

Android 12.0

Android 11.0

Android 9.0

Android 8.0
Samsung

Samsung

One UI 3.1.1

Experience 9.1

Experience 9.0
Microsoft

Microsoft

Windows 10 May 2019 Update

Windows 10 Fall Creators Update
WhatsApp

WhatsApp

2.21.11.17

2.19.7

2.17
Twitter

Twitter

Twemoji 13.1

Twemoji 2.3
Facebook

Facebook

13.1

3.0

2.1
Codepoints
🤬 U+1F92C
Shortcodes
:cursing_face: (Github, Slack)
:face_with_symbols_on_mouth: (Slack)
:serious_face_with_symbols_covering_mouth: (Slack)
emoji copy and paste
emoji meaning
face with symbols on mouth
Smiley Emoji