😖 Confounded Face Emoji
Confounded Face Emoji Meaning: 
Emojis were designed to represent feelings symbolically. The confounded Face emoji depicts a yellow face smiley with firmly closed eyes and a squiggly wide mouth. This confounded emoji meaning is typically used to indicate being overpowered with numerous emotions such as aggravation, frustration, disgust, and despair. 
NOTE: As part of Unicode 6.0, Confounded Face was approved in 2010 and added in 2015 to Emoji 1.0. 
| | |
| --- | --- |
| Emoji: | 😖 |
| Name: | Confounded Face |
| Meaning: | aggravation, frustration, disgust, and despair |
| Unicode version: | None |
| Emoji and IOS version: | Emoji and IOS |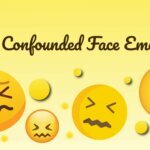 When was Confounded Face added to the emojis category?
In 2010, the confounded face emoji was approved under Unicode 6.0 and then added to the smiley and emoticon category in 2015. It is the classic representation of frustration and disgust.
How can you Copy-Paste Confounded Face Emoji?
It became very easy for you to copy and paste any emoji by using our website. Here are the steps that will guide and allow you to do confounded face emoji copy and paste and other 10000 emojis copy and paste with a few clicks.
Visit our website heatfeed.com. Find the emoji that you want to copy and tap on it.
Now tap on the emoji copy icon and the emoji will immediately copy on your device.
Paste the emoji on any online platform like Facebook, Instagram, and other platforms. 
Who uses 😖 Confounded Face Emoji?
People use this emoji in the text to show their feelings of frustration. If a girl or guy uses this emoji it means they are going through something difficult situation or they are getting annoyed by your behavior.
Lavish combination to use 😖 Confounded Face Emoji
Lavish combination to use confounded face emoji with other emojis to express your feelings more precisely. Below are some ideas that will guide you to use confounded face emojis in your text.
I'm so tired of waiting 😖😣😣
I hate it when she gets angry 😖😥
I am just tired of this party 😖
​😖​💊​ Don't want more medicine
​🤜​😖​🤛​​ Fighting to get the best item in the sale
​🚬​🍻​🥂​😖​ Addicted
​🕷️​😖​💪​ Who wants to become a Spider-Man
Similar Emojis:
😖 Confounded Face emoji or 😣 Persevering Face emoji are similar to each other. Each emoji transmits a separate message among many others. 
Also Known As
😖 Quivering Mouth
😖 Scrunched Face Emoji
😖 Confounded Emoji
😖 Puke Face Emoji
😖 Scared Emoji
😖 Scrunchy Face
😖 Sad Face With X Eyes
Apple Name
😖 Confounded Face 
😖 Confounded Face Emoji look across various gadgets
The confounded face emoji looks different across various platforms. Because every manufacturer of emojis designs them according to their own unique ideas. We have drawn a table of confounded emojis on different platforms so that you can easily check the difference in their appearance of it.
Apple

Apple

iOS 14.6

iOS 10.2

iOS 10.0

iOS 8.3

iOS 6.0

iOS 5.1

iOS 4.0
iPhone OS 2.2
Google

Google

Android 12.0

Android 11.0

Android 9.0

Android 8.0

Android 7.0

Android 5.0

Android 4.4

Android 4.3
Gmail
Samsung

Samsung

One UI 3.1.1

One UI 2.5

Experience 9.1

Experience 9.0

TouchWiz 7.1

TouchWiz 7.0

TouchWiz Nature UX 2
Microsoft

Microsoft

Windows 10 May 2019 Update

Windows 10 Anniversary Update

Windows 10

Windows 8.1

Windows 8.0
WhatsApp

WhatsApp

2.21.11.17

2.19.7

2.17
Twitter

Twitter

Twemoji 13.1

Twemoji 13.0.2

Twemoji 1.0
Facebook

Facebook

13.1

4.0

3.0

2.0

1.0
Messenger

Messenger

1.0
Codepoints
😖 U+1F616
Shortcodes
:confounded: (Github, Slack)
Confounded face emoji
emoji copy and paste
emoji meaning
Emoji Smiley