😣 Persevering Face Emoji
Persevering Face Emoji Meaning:
Emojis were used to represent feelings symbolically. Persevering Face emoji is a yellow face smiley with furrowed brows, pinched eyes, and a sad downfaced curve for a mouth. This 😣 meaning represents physical and mental tiredness, a breakdown in the hard work process, emotional vulnerability, and powerlessness.
NOTE: Persevering Face was approved as part of Unicode 6.0 in 2010 and added to Emoji 1.0 in 2015.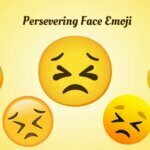 How to 😣 Emoji Copy and Paste?
It's very easy for the Persevered face emoji to copy and paste. You just have to follow these simple and easy steps to copy and paste the emoji by using heatfeed.com on any of the available devices. It will add meaning to your simple text and it will be more effective as compared to the simple text. These are the steps for you to follow while more than 10000 emojis copy and paste:
First of all, you have to visit the website heatfeed.com
Then search for your desired emoji in the search bar of the website.
Then you have to click on the ''Copy'' icon looking on your screen.
Now it's done!
You can easily paste the copied emoji on any of the online social media platforms either in conversation, comments, profile or in your bios as per the requirements and choices of the users. Heatfeed.com offers almost 1000 emojis to copy and paste.
Similar Emojis:
😣 Persevering Face or 😖 Confounded Face emoji are both similar. Among many others, each emoji conveys a unique message.
Also Known As
😣 Helpless Face
😣 Scrunched Eyes
😣 Stressed Emoji
😣 >_< Emoji
😣 Suffering Emoji
😣 Struggle Emoji
Apple Name
😣 Persevering Face
Apple

Apple

iOS 14.6

iOS 10.2

iOS 10.0

iOS 8.3

iOS 6.0

iOS 5.1

iOS 4.0
iPhone OS 2.2
Google

Google

Android 12.0

Android 11.0

Android 8.0

Android 7.0

Android 5.0

Android 4.4

Android 4.3
Gmail
Samsung

😣 Samsung

One UI 3.1.1

Experience 9.1

Experience 9.0

TouchWiz 7.1

TouchWiz 7.0

TouchWiz Nature UX 2
Microsoft

Microsoft

Windows 10 May 2019 Update

Windows 10 Creators Update

Windows 10 Anniversary Update

Windows 10

Windows 8.1

Windows 8.0
WhatsApp

WhatsApp

2.21.11.17

2.19.7

2.17
Twitter

Twitter

Twemoji 13.1

Twemoji 1.0
Facebook

Facebook

13.1

4.0

3.0

2.0

1.0
Messenger

Messenger

1.0
Codepoints
😣 U+1F623
Shortcodes
:persevere: (Github, Slack)
emoji copy and paste
emoji meaning
persevering face emoji
Smiley Emoji