😤 Face With Steam From Nose Emoji
Face With Steam From Nose Emoji
😤 Emoji Meaning:
Emojis were created to represent emotions symbolically. Face with Steam from Nose emoji is a yellow face smiley with furrowed brows, closed eyes, a broad frown, and two puffs of steam blowing out of its nose as if fuming. This emoji shows arrogance, stubbornness, rigidity, and strictness. This fuming face emoji also indicates irritation, frustration, contempt, and intense discomfort.
Face with steam from nose emoji 😤 can also be used in combination with 😬 grinding face emoji. Because both of the emojis are very helpful for representing various negative emotions including irritation, frustration, and anger. Sometimes the same emojis are used for expressing feelings like pride, empowerment, and dominance. While talking through digital means these emojis are very helpful for enhancing the meaning of your sentences. There are a lot of such social websites that work on emojis but heatfeed.com offers you almost 10000 emojis copy and paste options.
NOTE: In 2010 under the name "Face with Look of Triumph" Face with Steam From Nose was approved for Unicode 6.0 and was added to Emoji 1,0 in 2015.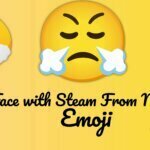 How to Copy and Paste Face with Steam from Nose Emoji?
Face with Steam from nose copy and paste is a very simple and easy process. If you will follow the above-mentioned instructions for copying and pasting the desired emojis from heatfeed.com, it will take just a few seconds to complete your desired task. These instructions are described in the given steps:
Search for heatfeed.com on your device.
Explore the social media website.
Search for the desired emoji on the search bar of the website.
Click on the '' Copy '' icon.
The emoji has been copied successfully.
Now you are able to paste the copied emoji on any of the desired social networking platforms. It will make your meanings and expressions very clear and you can easily convey your message to the sender. These emojis have made conversations very easy and efficient on social websites.
Similar Emojis:
There are some other emojis that are similar to 😤 Face with Steam from Nose, 😮 Face with Open Mouth, and 🙄 Face with Rolling Eyes. Among many others, each emoji conveys a specific message. The very close and similar emojis for the face with steam from the nose include 😠 Angry Face, 🧐 Face with Monocle, 🤨 Face with Raised Eyebrow, 🔥 Fire emoji, 😬 Grimacing Face, 😡 Enraged Face, 🤬 Face with Symbols on Mouth.
Also Known As
😤 Airing of Grievances
😤 Frustrated Face Emoji
😤 Steam Nose Emoji
😤 Fuming Emoji
😤 Blowing Steam Emoji
😤 Steaming Emoji
😤 Huffing Emoji
😤 Breathing Emoji
😤 Triumph Emoji
😤 Sniffing Emoji
😤 Breathing Through Nose Emoji
😤 Blowing Nose Emoji
😤 Blowing Smoke Emoji
Apple Name
😤 Face with Steam From Nose
Unicode Name
😤 Face with Look of Triumph
Apple

Apple

iOS 14.6

iOS 10.2

iOS 10.0

iOS 8.3

iOS 6.0

iOS 5.1
Google

Google

Android 12.0

Android 11.0

Android 10.0

Android 8.0

Android 7.0

Android 5.0

Android 4.4

Android 4.3
Samsung

Samsung

One UI 3.1.1

Experience 9.0

TouchWiz 7.1

TouchWiz 7.0

TouchWiz Nature UX 2
Microsoft

Microsoft

Windows 10 May 2019 Update

Windows 10 Anniversary Update

Windows 10

Windows 8.1

Windows 8.0
WhatsApp

WhatsApp

2.21.11.17

2.19.7

2.17
Twitter

Twitter

Twemoji 13.1

Twemoji 1.0
Facebook

Facebook

13.1

3.0

2.0
Messenger

Messenger

1.0
Codepoints
😤 U+1F624
Shortcodes
:triumph: (Github, Slack)
emoji copy and paste
emoji meaning
Face with Steam from Nose emoji
Smiley Emoji