🔮 Crystal Ball Emoji
Crystal Ball Emoji Meaning
Crystal Ball emoji or the spiritual emoji is an object that depicts a blue or purple-colored structure resting on the stand. This sparkle emoji is used by the future tellers as magic and shows their intellect to predict the upcoming time or future. 
Magic emoji is associated with the alternative spirituality of the clairvoyant or fortune teller. Crystal emoji represent magic and you can use it with 🧙 Mage emoji to show your love talking about it.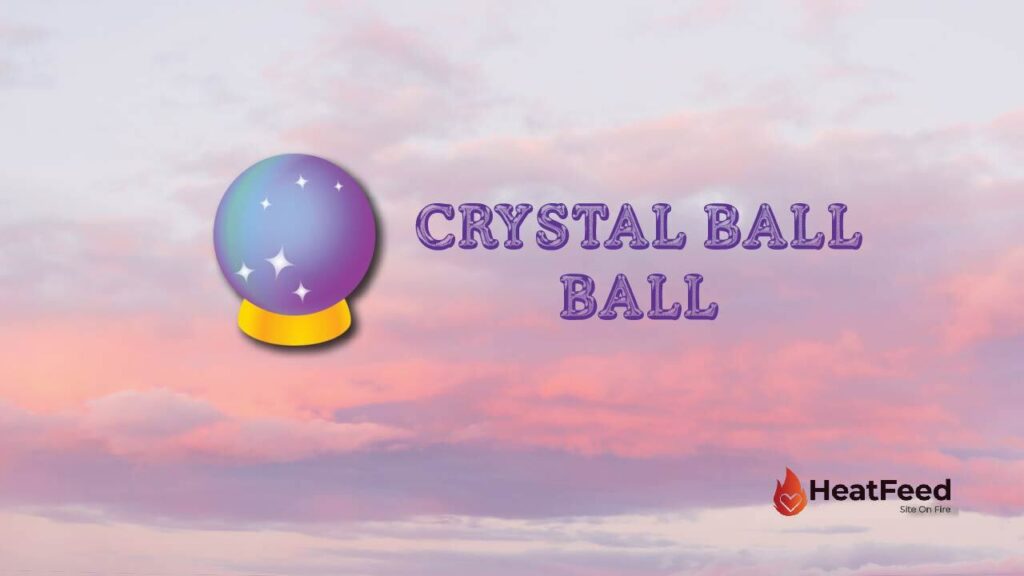 | | |
| --- | --- |
| Emoji: | 🔮 |
| Name: | Crystal Ball Emoji |
| Meaning: | Predict the future or upcoming time |
| Unicode Version: | Unicode 6.0 |
| Emoji and iOS Version: | Emoji 1.0 and iOS 15.4 |
When was Crystal Ball added to emojis? 
In 2010, this magic Ball emoji was approved under Unicode 6.0. This emoji is the classic representation of magic or predictions. The crystal ball emoji is available on all online platforms.
How to Copy and Paste Crystal Ball Emoji?
10000 emojis copy and paste from our website are now very easy. You have to just follow a few steps to crystal ball emoji copy and paste into your system. The steps are written below:
Go to heatfeed.com. Find the magic ball emoji that you want to copy and click on it.
Click on the Crystal ball emoji copy icon and your favorite emoticon will automatically be on your system.
Now after that paste it wherever you like to.
Who uses 🔮 Crystal Ball Emoji?
People use this fortune teller emoji when they are talking about magic and predict the future and upcoming times. Sometimes, people use this spiritual emoji to show their love for magic and fantasy movies. Some people also use this emoji with 🚫 Prohibited emoji to show that they do not believe or support the culture or supernaturals.
Lavish combination to use 🔮 Crystal Ball Emoji
There are a few amazing combinations of the magic ball emoji with other emojis to make your text more unique and impressive. Below are some ideas to use crystal emoji:
​👀​🔮​👉​👪​ I see a bright future with you
​🔮​✨​💯​ hundred % true magic
​I can see good things happen in your future 🔮🧙‍♀️
💪🏻​🔮​ the power of magic
​⚔️️​🔮​🛡️​ the heroes of might and magic
Do you think this 🔮​ show me what I want to know
​🧙‍♀️​👩‍🦳​🔮​ the magician
​🎩8️⃣​🔮​✨​​ The magic eight ball
Similar Emojis
A list of related Emojis symbols of the spiritual emoji are 🧙 Mage, ⚗️ Alembic, 🗡️ Dagger, 🐲 Dragon Face, 🧝 Elf, 🧞 Genie, 🪄 Magic Wand, 🕴️ Person in Suit Levitating, 🧿 Nazar Amulet, 🃏 Joker, ✨ Sparkles, 🎱 Pool 8 Ball, 🐉 Dragon, 🥠 Fortune Cookie,  🍄 Mushroom, 📿 Prayer Beads, 🎪 Circus Tent.
Also Known As
🔮 Purple Crystal Emoji
🔮 Fortune Teller Emoji
🔮 Purple Crystal
🔮 Clairvoyant
🔮 Psychic
Apple Name
🔮 Crystal Ball
Codepoints
🔮 U+1F52E
Shortcodes
: crystal_ball : (Github, Slack)
Crystal Ball Emoji
emoji copy and paste
emoji meaning
object