😨 Fearful Face Emoji
Fearful Face Emoji Meaning:
Emojis were designed to represent feelings symbolically. Fearful Face emoji is a yellow face smiley with a pale blue forehead with small, open eyes, an open frown, arched eyebrows, and a small, open eye. This scared emoji is usually used to convey a wide variety of emotions including the feeling of astonishment, shock, sadness, upheaval, and coldness.
NOTE: Fearful Face was approved as a part of Unicode 6.0 in 2010 and added to Emoji 1.0 in 2015.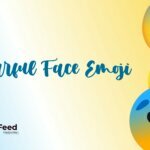 How to copy-paste the fearful face emoji?
The fearful face emoji is being used to describe a scary situation. The situation where you have found no hope. When you want 10000 emojis copy and paste the fearful face emoji you will get it from any other site on the internet but the best site is heatfee.com. Consider these steps and get your favorite emoji copied
Visit the website
Ask the navigation bar to search your liked emoji
After that copy the emoji
Paste it wherever you need to.
Similar Emojis:
There are some other emojis that are similar to the 😨 Fearful Face emoji are 😱 Face Screaming in Fear, 😧 Anguished Face, and 😦 Frowning Face with Open Mouth emoji. Among many others, each emoji transmits a distinct message.
Also Known As
😨 Scared Emoji
😨 Surprised
😨 Panic Emoji
😨 Terrified Emoji
😨 Scared Face Emoji
😨 Scary Emoji
😨 Dread Emoji
😨 Afraid Emoji
Apple Name
😨 Fearful Face
Apple

Apple

iOS 14.6

iOS 10.2

iOS 10.0

iOS 8.3

iOS 6.0

iOS 5.1

iOS 4.0
iPhone OS 2.2
Google

Google

Android 12.0

Android 11.0

Android 10.0

Android 9.0

Android 8.0

Android 7.0

Android 5.0

Android 4.4

Android 4.3
Samsung

Samsung

One UI 3.1.1

One UI 2.5

Experience 9.0

TouchWiz 7.1

TouchWiz 7.0

TouchWiz Nature UX 2
Microsoft

Microsoft

Windows 10 May 2019 Update

Windows 10 April 2018 Update

Windows 10 Anniversary Update

Windows 10

Windows 8.1

Windows 8.0
WhatsApp

WhatsApp

2.21.11.17

2.19.7

2.17
Twitter

Twitter

Twemoji 13.1

Twemoji 1.0
Facebook

Facebook

13.1

3.0

2.0

1.0
Messenger

Messenger

1.0
Codepoints
😨 U+1F628
Shortcodes
:fearful: (Github, Slack)
emoji copy and paste
emoji meaning
Fearful Face Emoji
Smiley Emoji