😀 Grinning Face Emoji
Grinning Face Emoji Meaning
Emojis were created to symbolically express emotions. The grinning Face emoji is a happy-looking smiley. A yellow face with open eyes and a large, open smile that reveals the top teeth and tongue. Frequently transmits general happiness or a good sense of humor. It can be used practically anywhere, such as when sending a cheerful SMS, saying hello, or simply expressing joy, excitement, agreement, friendliness, or positivity about anything. It can also be used to merely improve the aesthetic of a short text. 
You can use a grinning face emoji when you have outsmarted someone and you wanted to show your happiness in front of him. This emoji shows that you feel a little bit embarrassed but happy about defeating somebody who might be a friendly figure to you.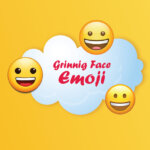 NOTE: In 2012, Grinning Face was approved as part of Unicode 6.1, and in 2015, it was added to Emoji 1.0. 
How to copy-paste the grinning face emoji?
The grinning face emoji is liked by various people. The grinning face emoji copy and paste feature are being liked by many. You can get it on heatfeed.com. This site has 10,000 copy and pastes emoji functions. You need to follow the following steps.
In the first step, you need to go to the website.
On the search bar, write the name of your favorite emoji.
.After that, you would see a button "copy the emoji".
you can paste the emoji anywhere now.
Similar Emojis
There are some emojis that are similar to 😀 Grinning Face emoji are 😃 Grinning Face with Big Eyes, 😄 Grinning Face with Smiling Eyes, 🐱 Cat Face, 😺 Grinning Cat, 😸 Grinning Cat with Smiling Eyes, 😅 Grinning Face with Sweat, 😆 Grinning Squinting Face, 😁 Beaming Face with Smiling Eyes, 🤩 Star-Struck, 🤪 Zany Face, 🐷 Pig Face, 🐴 Horse Face, 🙃 Upside-Down Face, 😂 Face with Tears of Joy, 🤠 Cowboy Hat Face, 😓 Downcast Face With Sweat, 🥲 smiling Face with Tears, 😛 Face with Tongue, 😈 Smiling Face with Horns. Each emoji conveys a unique message, among many others.
Also Known As
😀 Happy Face
😀 Smiley Face
😀 Appreciative Face
Apple Name
😀 Grinning Face
Apple



Apple

iOS 14.6

iOS 10.2

iOS 10.0

iOS 8.3

iOS 6.0
Google



Google

Android 12.0

Android 11.0

Android 8.0

Android 7.0

Android 5.0

Android 4.4
Samsung



Samsung

One UI 2.5

Experience 9.0

TouchWiz 7.1

TouchWiz 7.0

TouchWiz Nature UX 2
Microsoft



Microsoft

Windows 10 May 2019 Update

Windows 10 Anniversary Update

Windows 10

Windows 8.1

Windows 8.0
WhatsApp



WhatsApp

2.20.206.24

2.19.7

2.17
Twitter



Twitter

Twemoji 13.1

Twemoji 1.0
Facebook



Facebook

4.0

3.0

2.0
Messenger



Messenger

1.0
Codepoints
😀 U+1F600
Shortcodes
:grinning: (Github, Slack)
Emoji Copy & Paste
emoji meaning
Grinning Face
Grinning Face Emoji