😛 Face with Tongue Emoji
Emoji 😛 Meaning: 
Emojis were invented to symbolically represent emotions. Face with Tongue emoji is a yellow face smiley with small, open eyes and an outsized grin, protruding its tongue in a humorous manner. This smiley is most commonly used in casual conversation to convey goofiness, humor, and sometimes even friendliness. It can have a variety of meanings, but the most basic and obvious ones are innocence, childishness, laziness, and carelessness. Face tongue smiley can be used in a variety of ways, due to its protruding tongue. 
NOTE: Face with Tongue was introduced to Emoji 1.0 in 2015 and was certified as part of Unicode 6.1 in 2012 under the name "Face with Stuck-Out Tongue."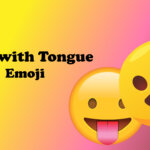 How to copy-paste the face without tongue emoji?
The face without tongue emoji is a gigantic emoji. It is utilized vastly by internet vendors. The face without mouth emoji copy and paste option is issued by plenty of emoji sites. Heatfeed.com has 10,000 copy and paste options. Emoji on this website can be copied/pasted as follows,
Get to the website www.heatfeed.com
Search the ideal emoji on the navigation bar.
Copy the emoji by snapping the copy button right under the emoji.
Paste it at your picked site on social media.
Similar Emojis:
😜 Winking Face with Tongue or 😝 Squinting Face with Tongue is similar to the 😛 Face with Tongue emoji. Among many other things, each emoji sends a distinct message. 
Also Known As
😛 Cheeky
😛 Playful
Tongue Face 😛
Goofy Face 😛
Just Kidding 😛
😛 Tongue-Out
Apple Name
😛 Face with Stuck-Out Tongue
Unicode Name
😛 Face with Stuck-Out Tongue
Apple

Apple

iOS 14.6

iOS 10.2

iOS 10.0

iOS 8.3

iOS 6.0
Google

Google

Android 12.0

Android 11.0

Android 8.0

Android 7.0

Android 5.0

Android 4.4
Samsung

Samsung

One UI 2.5

Experience 9.0

TouchWiz 7.1

TouchWiz 7.0

TouchWiz Nature UX 2
Microsoft

Microsoft

Windows 10 May 2019 Update

Windows 10 Anniversary Update

Windows 10

Windows 8.1

Windows 8.0
WhatsApp

WhatsApp

2.21.11.17

2.19.7

2.17
Twitter

Twitter

Twemoji 13.1

Twemoji 12.1.6

Twemoji 2.4

Twemoji 1.0
Facebook

Facebook

13.1

3.0

2.0
Messenger

Messenger

1.0
Codepoints
😛 U+1F61B
Shortcodes
:stuck_out_tongue: (Github, Slack)
emoji copy and paste
emoji meaning
Face with Tongue Emoji
Smiley Emoji