😜 Winking Face with Tongue Emoji
Winking Face with Tongue Emoji
Winking Face With Tongue Emoji Meaning: 
Emojis were invented to represent feelings symbolically. Winking Face with Tongue emoji is a yellow face smiley with a tongue hanging out and a wacky wink, commonly represented with the closed right eye and the open left eye. It usually portrays a sense of hilarity, wackiness, buffoonery, or joking. This emoji can also be used to convey flirty messages. 
The winking face emoji shows your naughtiness. It seems a bit imprudent to send this particular emoji to someone but it doesn't mean that it is not a significant emoji in showing your feelings during texting. 
Send it to your friends with whom you are more than comfortable. They would ultimately understand your purpose for doing it. Otherwise in common people, they might take it in some other sense or may mind it. You know!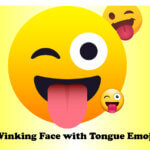 NOTE: Under the name "Face with Stuck-Out Tongue and Winking Eye," Winking Face with Tongue was approved as part of Unicode 6.1 in 2010 and included in Emoji 1.0 in 2015. 
How to copy-paste the winking face with tongue emoji?
It is fun to do the winking face with tongue emoji copy and paste. All you need to do is to follow the primary steps and see the magic. If you want any emoji then get it from heatfeed which has 10,000 copy and paste options. Follow the following steps,
Enter the site heatfeed.com if you want to copy-paste the winking face with tongue emoji. 
Search your dearest emoji on the search bar.
 Now,  you click on the copy button, and the emoji shall be copied.
you should paste the emoji somewhere like on social media platforms.
Similar Emojis:
😛 Face with Tongue, 😝 Squinting Face with Tongue, and 🤪 Zany Face is similar to 😜 Winking Face with Tongue emoji. Among many other things, each emoji sends a unique message.
Also Known As
😜 Crazy Emoji
😜 Crazy Face
😜 Madness
😜 Naughty Face
😜 Mischievous
Apple Name
😜 Winking Face with Stuck-Out Tongue
Unicode Name
😜 Winking Face with Stuck-Out Tongue and Winking Eye
Apple

Apple

iOS 14.6

iOS 10.2

iOS 10.0

iOS 8.3

iOS 6.0

iOS 5.1

iOS 4.0
iPhone OS 2.2
Google

Google

Android 12.0

Android 11.0

Android 8.0

Android 7.0

Android 5.0

Android 4.4

Android 4.3
Gmail
Samsung

Samsung

One UI 2.5

Experience 9.0

TouchWiz 7.1

TouchWiz 7.0

TouchWiz Nature UX 2
Microsoft

Microsoft

Windows 10 May 2019 Update

Windows 10 Anniversary Update

Windows 10

Windows 8.1

Windows 8.0
WhatsApp

WhatsApp

2.21.11.17

2.19.7

2.17
Twitter

Twitter

Twemoji 13.1

Twemoji 12.1.6

Twemoji 2.4

Twemoji 1.0
Facebook

Facebook

13.1

4.0

3.0

2.0

1.0
Messenger

Messenger

1.0
Codepoints
😜 U+1F61C
Shortcodes
:stuck_out_tongue_winking_eye: (Github, Slack)
emoji copy and paste
emoji meaning
Smiley Emoji
Winking Face with Tongue Emoji