😝 Squinting Face with Tongue Emoji
Squinting Face with Tongue
Face With Stuck-Out Tongue And Tightly-Closed Eyes Emoji Meaning: 
Emojis were invented as a way to symbolize feelings. The squinting Face with Tongue emoji depicts a face with screwed eyes and a large open grin with a tongue protruding. This smiley is frequently used to annoy someone or to demonstrate arrogant superiority in something, It refers to a feeling of joy, enthusiasm, playfulness, cheekiness, humor, and happiness. This smiley may be used in a multitude of ways due to its protruding tongue. 
When you are with your friend someplace and you think that something funny has been happening but of course, you cannot tell out loud then you use this emoji in your abrupt and honest opinions. This emoji is used at that moment in a quick manner.
NOTE: Squinting Face with Tongue was added to Emoji 1.0 in 2015 after being approved as part of Unicode 6.0 in 2010 under the name "Face with Stuck-Out Tongue and Tightly-Closed Eyes."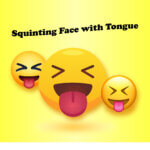 How to copy-paste the squinting face emoji?
There are millions of users who use the squinting face emoji. They love to do the squirting face emoji copy and paste. You can copy the emoji from heatfeed.com which has a stock of 10000 emojis copy and paste emojis.
1. You need to go to a good emoji website to copy your favorite emoji.
2. Copy emoji from thereby writing the mane on the navigation bar.
3. paste it to the space you like to, for example, Facebook or Instagram.
Similar Emojis:
😛 Face with Tongue, or 😜 Winking Face with Tongue is similar to the 😝 Squinting Face with Tongue emoji. Among many other things, each emoji depicts a unique message. 
Also Known As
😝 Crazy Emoji
😝 Playful Emoji
😝 Goofy face
😝 Tongue Out
Apple Name
😝 Face with Stuck-Out Tongue and squinting Eyes
Unicode Name
😝 Face with Stuck-Out Tongue and Tightly-Closed Eyes
Apple

Apple

iOS 14.6

iOS 10.2

iOS 10.0

iOS 8.3

iOS 6.0

iOS 5.1

iOS 4.0
iPhone OS 2.2
Google

Google

Android 12.0

Android 11.0

Android 8.0

Android 7.0

Android 5.0

Android 4.4

Android 4.3
Samsung

Samsung

One UI 2.5

Experience 9.0

TouchWiz 7.1

TouchWiz 7.0

TouchWiz Nature UX 2
Microsoft

Microsoft

Windows 10 May 2019 Update

Windows 10 Anniversary Update

Windows 10

Windows 8.1

Windows 8.0
WhatsApp

WhatsApp

2.21.11.17

2.19.62

2.17
Twitter

Twitter

Twemoji 13.1

Twemoji 13.0.2

Twemoji 12.1.6

Twemoji 2.4

Twemoji 1.0
Facebook

Facebook

13.1

4.0

3.0

2.0

1.0
Messenger

Messenger

1.0
Codepoints
😝 U+1F61D
Shortcodes
:stuck_out_tongue_closed_eyes: (Github, Slack)
emoji copy and paste
emoji meaning
Emoji Smiley
Squinting Face with Tongue Emoji