😆 Grinning Squinting Face Emoji
Grinning Squinting Face Emoji
Grinning Squinting Face Emoji Meaning:
Emojis were created to symbolically express emotions. A yellow face grinning squirting face emoji is a cheerful expression, expressing strong joy, laughter, surprise, or excitement, with eyes, firmly shut and lips open in a wide smile, showing enthusiasm or a comical smile. This smiley is frequently used after receiving good news, revealing a surprise, expressing enthusiastic support, or because of something unusual. It can also be used to replace text emoji >_<.
Sometimes, you feel naughty and want to act in a pretty funky way and when you do feel like doing it, then use these grinning emojis and squinting face emojis. This emoji is being sent to a partner with whom you are very close or frank. Grinning is usually accompanied by a squinting emoji face and you cannot handle the changing features of your face. That's why this emoji is being manufactured.
NOTE: Grinning Squinting Face was introduced to Emoji 1.0 in 2015 and was approved as part of Unicode 6.0 in 2010 under the name "Smiling Face with Open Mouth and Tightly-Closed Eyes."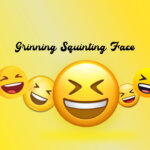 How to copy-paste the grinning squinting face emoji?
The grinning squint eye emoji copy and paste feature can be found on heatfeed.com. It is a site where you can find your 10000 emojis copy and paste emojis. The grinning squinting face emoji copy and paste process occur in the following steps,
Go to the website and find your favorite emoji.
you need to go to the navigation bar and write the name of your emoji.
Copy it by clicking on the button 'copy the emoji'
Paste it anywhere of your choice.
Similar Emojis
There are a few emojis that are similar to 😆 Grinning Squinting Face emoji are, 😄 Grinning Face with Smiling Eyes, 😅 Grinning Face with Sweat, 😛 Face with Tongue, 😝 Squinting Face with Tongue. Each emoji conveys a singular message, among many others. 
Also Known As
😆 ><
😆 Big Grin
😆 Closed-Eyes Smile
😆 Squint Emoji
😆 Laughing
😆 XD Emoji
Apple Name
😆 Grinning Face with Squinting Eyes
Unicode Name
😆 Grinning Face with Open Mouth and Tightly-Closed Eyes
Apple



Apple

iOS 14.6

iOS 10.2

iOS 10.0

iOS 9.1

iOS 8.3

iOS 6.0

iOS 5.1
Google



Google

Android 12.0

Android 11.0

Android 8.0

Android 7.0

Android 5.0

Android 4.4

Android 4.3
Gmail
Samsung



Samsung

One UI 2.5

Experience 9.0

TouchWiz 7.1

TouchWiz 7.0

TouchWiz Nature UX 2
Microsoft



Microsoft

Windows 10 May 2019 Update

Windows 10 April 2018 Update

Windows 10 Anniversary Update

Windows 10

Windows 8.1

Windows 8.0
WhatsApp



WhatsApp

2.20.206.24

2.19.7

2.17
Twitter



Twitter

Twemoji 13.1

Twemoji 1.0
Facebook



Facebook

4.0

3.0

2.0

1.0
Messenger



Messenger

1.0
Codepoints
😀 U+1F606
Shortcodes
:laughing: (Github, Slack)
:satisfied: (Github, Slack)
emoji copy and paste
emoji meaning
Grinning Emoji
Grinning Squinting Face Emoji