😅 Grinning Face with Sweat Emoji
Grinning Face with Sweat Emoji
Grinning Face With Sweat Emoji Meaning: 
Emojis were created to symbolically express emotions. This yellow face smiley Grinning Face with Sweat emoji is used for uneasiness, stress, or embarrassment in a wide, open mouth with a single drop of sweat on one side of the forehead. This emoji can also be used to convey sentiments like exercise or even relief. Sweating emojis can imply anything from "Oops! I made a mistake!" to "Wow, that was an amazing and refreshing run!" 
In the case of most emoji providers, the Grinning Face With cold Sweat emoji meaning looks exactly like the Smiling Face with Open Mouth and Smiling Eyes but with a Drop of Sweat on Its Face — just like it, this smiley has teeth and closed eyes. However, because the perspiration, is rarely employed to express joy and laughter – after all, few people link sweat with happiness.
NOTE: Under the name "Smiling Face with Open Mouth and Cold Sweat," the Grinning Face with Sweat emoji was approved as part of Unicode 6.0 in 2010 and added to Emoji 1.0 in 2015.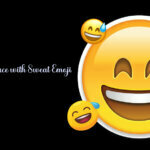 How to copy-paste the grinning face with sweat emoji?
Do you know how to use the grinning face emoji copy and paste feature? It is pretty simple to do so. Heatfeed has a directory of 10,000 copy and paste emojis. Here are the steps to follow,
1. Go to the site.
2. Now search for your liked emoji on the website.
3. Copy it by clicking on the copy the emoji button.
4. Paste your emoji anywhere you like to.
Similar Emojis:
There are a few emojis that are similar to 😅 Grinning Face with Sweat emoji are, 😓 Downcast Face with Sweat, 😄 Grinning Face with Smiling Eyes, 😛 Face with Tongue, 😝 Squinting Face with Tongue. Each emoji conveys a unique message, among others. 
Also Known As
😅 Exercise Emoji
😅 Happy Sweat
😅 Nervous Face
😅 Sweat Emoji
😅 Whew Emoji
😅 Sweat Drops Emoji
😅 Laughing Emoji
Apple Name
😅 Grinning Face with Sweat
Unicode Name
😅 Smiling Face with Open Mouth and Cold Sweat
Apple



Apple

iOS 14.6

iOS 10.2

iOS 10.0

iOS 9.1

iOS 8.3

iOS 6.0

iOS 5.1
Google



Google

Android 12.0

Android 11.0

Android 8.0

Android 7.0

Android 5.0

Android 4.4

Android 4.3
Gmail
Samsung



Samsung

One UI 2.5

Experience 9.0

TouchWiz 7.1

TouchWiz 7.0

TouchWiz Nature UX 2
Microsoft



Microsoft

Windows 10 May 2019 Update

Windows 10 April 2018 Update

Windows 10 Anniversary Update

Windows 10

Windows 8.1

Windows 8.0
WhatsApp



WhatsApp

2.20.206.24

2.19.7

2.17
Twitter



Twitter

Twemoji 13.1

Twemoji 1.0
Facebook



Facebook

4.0

3.0

2.0
Messenger



Messenger

1.0
Codepoints
😅 U+1F605
Shortcodes
:sweat_smile: (Github, Slack)
emoji copy and paste
emoji meaning
Grinning Emoji
Grinning Face with Sweat