😓 Downcast Face with Sweat Emoji
Downcast Face with Sweat Emoji
Downcast Face With Sweat Emoji Meaning: 
Emojis were designed to represent feelings symbolically. Downcast Face with Sweat emoji is a yellow face smiley with slightly closed eyelids, a downward curve indicating a sad mouth, and a large blue sweat drop trickling from one side of the head. This stress emoji represents a strong sense of worry, fear, tension, and despair. 
Downcast face emoji 😓 can also be used as a combination of 😢 crying face emoji. Because these have the same 😓 meanings and affect the normal text to make your words and conversation efficient. These emojis will express your worry, tiredness, tension, and fear. It is also possible for you to explore such websites as heatfeed.com that is offering up to 10000 emojis copy and paste options for its users without any cost. 
NOTE: Downcast Face with Sweat was added to Emoji 1.0 in 2015 and was approved as part of Unicode 6.0 in 2010 under the name "Face with Cold Sweat."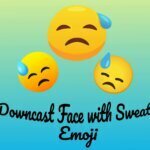 How to Copy and Paste the Downcast Face with Sweat Emoji?
If you want to use the downcast face with sad sweat emoji on any of the social media platforms to make your conversations attractive and meaningful. You can explore a social website heatfeed.com is offering up to 10000 emojis copy and pasting without any charges. There are simple and easy steps to follow for the required task to be done:
Explore Heatfeed.com on your device.
Search for the desired emoji.
Click on the ''Copy'' icon. 
The desired emoji has been copied successfully.
It is possible to paste the copied emojis on any of the popular and most trending social media platforms including Facebook, Instagram, Twitter, Whatsapp, and many others. These emojis will add value to your normal text and enhance the meaning of your sentences.
Similar Emojis:
Other emojis that are similar to 😓 Downcast Face with Sweat emoji 😥 Sad but Relieved Face, 😢 Crying Face, and 😅 Grinning Face with Sweat. Each emoji transmits a unique message, among many others. Some other emojis are also going trendy on social media platforms ( along with downcast with sweat emoji copy and paste ) to experience such sad and tired feelings that include 😰 Anxious Face with Sweat, 😭 Loudly Crying Face, 😪 Sleepy Face, 💦 Sweat Droplets, ☹️ Frowning Face.
Also Known As
😓 Hard Work
😓 Sad Sweat Face
😓 Sweat Emoji
😓 Stress Emoji
😓 Cold Sweat Emoji
Apple Name
😓 Downcast Face with Sweat
Unicode Name
😓 Face with Cold Sweat
Apple

Apple

iOS 14.6

iOS 10.2

iOS 10.0

iOS 8.3

iOS 6.0

iOS 5.1

iOS 4.0
iPhone OS 2.2
Google

Google

Android 12.0

Android 11.0

Android 9.0

Android 8.0

Android 7.0

Android 5.0

Android 4.4

Android 4.3
Gmail
Samsung

Samsung

One UI 3.1.1

One UI 2.5

Experience 9.1

Experience 9.0

TouchWiz 7.1

TouchWiz 7.0

TouchWiz Nature UX 2
Microsoft

Microsoft

Windows 10 May 2019 Update

Windows 10 Anniversary Update

Windows 10

Windows 8.1

Windows 8.0
WhatsApp

WhatsApp

2.21.11.17

2.19.7

2.17
Twitter

Twitter

Twemoji 13.1

Twemoji 1.0
Facebook

Facebook

13.1

3.0

2.0

1.0
Messenger

Messenger

1.0
Codepoints
😓 U+1F613
Shortcodes
:sweat: (Github, Slack)
downcast face with sweat emoji
emoji copy and paste
emoji meaning
Emoji Smiley