🙃 Upside-Down Face Emoji
Emoji Meaning: 
Emojis were intended to represent emotions symbolically. An Upside-Down Face emoji is implemented as a flipped version of Slightly Smiling Face. Sarcasm, irony, humor, and silliness are all prevalent expressions with Upside-Down Face. This smiley is sometimes used as a fun way of expressing embarrassment, annoyance, ambivalence, or bewildered resignation, as if to say, "Oh well!". Outside of these situations, this emoji is often wont to express even more confusing feelings.
This emoji is used in the same way as a normal little smile is used in real life — for example, as a reply to a joke or as a signal that what the user says isn't serious. It can also be used to convey caustic or satirical remarks.
NOTE: In 2015, Upside-Down Face was approved as part of Unicode 8.0 and included in Emoji 1.0.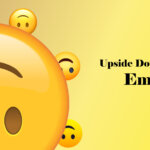 How to copy-paste the upside-down face emoji
The upside-down face emoji copy and paste feature are available on numerous emoji sites. Heatfeed contains10,000 copy and paste emojis. You can copy and paste them by the following method, 
1. Go to emoticon siteheatfeed.com
2.. Then go to the search bar and type your emoticon.
4. After you've tracked down it, click the button to copy the emoticon.
5. Copy it and paste it into the ideal platform like Facebook or Instagram.
Similar Emojis:
There is just a handful of emojis that resemble 🙃 Upside-Down Face emoji is 🕷️ Spider. Among many other emojis, each emoji sends a distinct message.
Also Known As
🙃 Silly
🙃 Sarcasm
🙃 Inverted Face
🙃 Cute Face
Apple Name
🙃 Upside Down Face
Apple

Apple

iOS 14.6

iOS 10.2

iOS 10.0

iOS 9.1
Google

Google

Android 12.0

Android 11.0

Android 9.0

Android 8.0

Android 7.0

Android 6.0.1
Gmail
Samsung

Samsung

One UI 2.5

Experience 9.0

TouchWiz 7.1

TouchWiz 7.0

TouchWiz 6.0
Microsoft

Microsoft

Windows 10 May 2019 Update

Windows 10 Fall Creators Update

Windows 10 Anniversary Update
WhatsApp

WhatsApp

2.21.11.17

2.19.7

2.17
Twitter

Twitter

Twemoji 13.1

Twemoji 2.0
Facebook

Facebook

13.1

3.0

2.0
Codepoints
🙃 U+1F643
Shortcodes
:upside_down_face: (Github, Slack)
emoji copy and paste
emoji meaning
face Emoji
Upside-Down Face Emoji