🥲 Smiling Face With Tear Emoji
Smiling Face with Tear Emoji
Smiling Face With Tear Meaning:
Emojis were used as a way to symbolically represent feelings. The smiling face with Tear emoji is a yellow face smiley with open eyes, a skinny closed-mouth smile, and a solitary tear in one eye. This smiley can be used to express a variety of feelings and expressions, such as thankfulness, gentle happiness, an attempt to appear cheerful when one is genuinely unhappy, or smiling through the pain. It might also be a reaction to something bittersweet.
NOTE: Smiling Face with Tear was approved as a section of Unicode 13.0 in 2020 and added to Emoji 13.0 in 2020.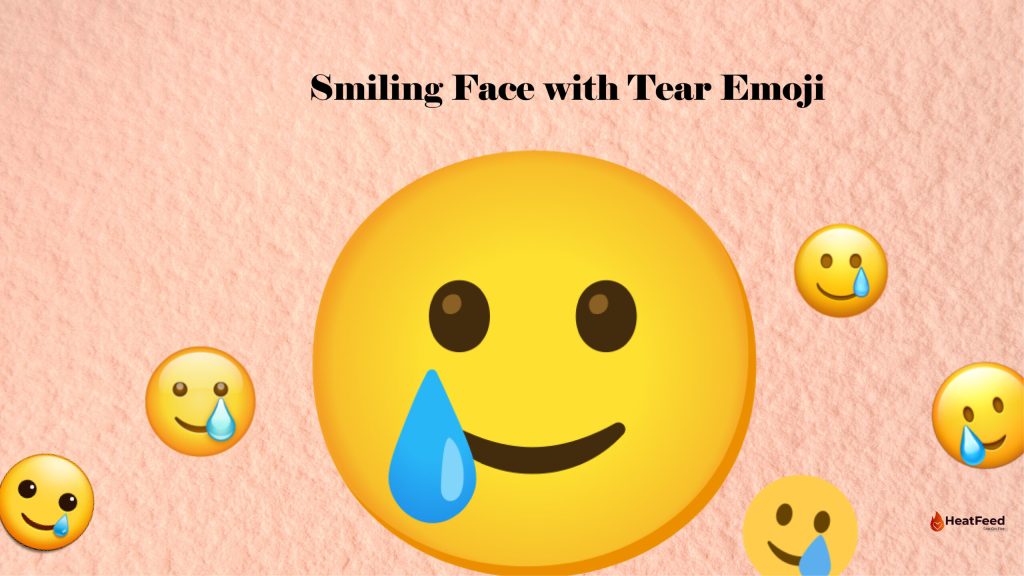 | | |
| --- | --- |
| Emoji: | Smiling Face with Tear Emoji |
| Name: | 🥲 |
| Meaning: | Grateful, Proud, Relieved, Smiling, tear face, Touched, Thankfulness, Gentle Happiness |
| Unicode version: | None |
| Emoji and IOS version: | Emoji and IOS |
When was Smiling Face with Tear added to emojis?
In 2020, the Smiling Face with Tear copy emoji was endorsed under Unicode 13.0 and in 2020 added to the emoji and smiley category. It is a classical representation of smiling in pain.
How to Copy-Paste Smiling Face with Tear Emoji?
It became very easy to copy-paste a smiling face with tear emoji. You can also do 10000 emojis copy and paste by using our website heatfeed.com. You can paste emojis on any online platform without facing any difficulty.
Visit our website heatfeed.com. Search the smiling face with tear emoji and click on it.
Click on the copy icon and it will instantly copy on your system.
Now, you can paste it wherever you want like Instagram, Facebook, Twitter, Whatsapp, etc.
Who uses 🥲 Smiling Face with Tear Emoji?
People use this emoji with different meanings like they use this emoji when they were dying to hear something. For example, when I hear about my selection at this University, I was over the moon. And people also use this emoji with heart emoji when someone writes a long paragraph for you, and it relieves your stress a little bit.
Lavish combination to use 🥲 Smiling Face with Tear Emoji
There are a few combination ideas to put different emojis together to make your text more impressive and unique. Below are the Lavish combo ideas:
​👪​👨‍🎓​🥲​ Enjoy the success of your child
I thought I lost my lucky pen but I am happy to know that it is with you 🥲🥲 🙂
​🎭​🥲​ very heart touching performance
I know so much going on but you have to be strong 🥲 😢
She is smiling but I can see the pain in her eyes 🥲 😢 😟
I didn't expect this from him 🥲 🥲
I love him but I can't stand it anymore 😢 🥲
Why you did do this to me? 🥲 🥲
Similar Emojis:
There are some other emojis that look alike 🥲 Smiling Face with Tear emoji, 😂 Face with Tears of Joy, 😢 Crying Face, 😿 Crying Cat, 🙂 Slightly Smiling Face. Each emoji carries a unique message, among many others.
Also Known As
🥲 Happy Tears
🥲 Teary-Eyed
🥲 Relieved Face
🥲 Crying on the Inside
🥲 Slightly Smiling Face With Tear
Apple Name
🥲 Smiling Face with Tear
Apple

Apple

iOS 14.6

iOS 14.2
Google

Google

Android 12.0

Android 11.0
Samsung

Samsung

One UI 2.5
WhatsApp

WhatsApp

2.21.11.17

2.20.206.24
Twitter

Twitter

Twemoji 13.1

Twemoji 13.0
Codepoints
🥲 U+1F972
Shortcodes
:smiling_face_with_tear:
emoji copy and paste
emoji meaning
Smiley Emoji
Smiling Face with Tear Emoji