🤪 Zany Face Emoji
Zany Face Emoji Meaning: 
Emojis were invented as a way to symbolically express feelings. Zany Face emoji is a yellow face smiley with a broad grin and two large white eyes, one larger than the opposite and cockeyed. This foolish face is made by a smiley. Many platforms, like Apple's, depict it with its tongue protruding and head tilted, but others depict it with a full-toothed grin, giving it a more psychotic appearance. It has the potential to express a feeling of craziness in general. 
A yellow face with a cocked head, a broad grin on its tongue, and wide eyes in a wild, cockeyed attitude. Usually used to express hilarity.
Acting silly, having a good time, and partying is a term that is usually used in a positive light. It can be used to describe someone or anything that is out of whack.
NOTE: Zany Face was added to Emoji 5.0 in 2017 and was certified as a part of Unicode 10.0 under the name "Grinning Face With One Large and One Small Eye."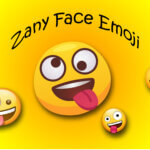 How to copy-paste zany face emoji?
Do you like the zany face emoji copy and paste option? Zany face emoji is used by people who love to do fun. Zany face emoji can be copied from heatfeed which has 10000 emojis copy and paste options for the public. The following steps are given to show the method, 
You should go to the site www.heatfeed.com
Search your most loved emoji on the search bar.
Now copy the emoji by using the copy button under the emoji.
Now, you should paste the emoji somewhere.
Similar Emojis:
😜 Winking Face with Tongue is similar to 🤪 Zany Face emoji. Among many other things, each emoji conveys a unique message.
Also Known As
🤪 Crazy Eyes
🤪 Exited
🤪 Wild
🤪 Partying
🤪 Madness
Apple Name
🤪 Goofy Face
Unicode Name
🤪 Grinning Face with One Large and One Small Eye
Apple

Apple

iOS 14.6

iOS 11.1
Google

Google

Android 12.0

Android 11.0

Android 9.0

Android 8.0
Gmail
Samsung

Samsung

One UI 2.5

Experience 9.0
Microsoft

Microsoft

Windows 10 May 2019 Update

Windows 10 Fall Creators Update
WhatsApp

WhatsApp

2.21.11.17

2.19.7

2.17
Twitter

Twitter

Twemoji 13.1

Twemoji 2.4

Twemoji 2.3
Facebook

Facebook

13.1

3.0

2.1
Codepoints
🤪 U+1F92A
Shortcodes
:zany_face: (Github, Slack)
:grinning_face_with_one_large_and_one_small_eye: (Slack)
emoji copy and paste
emoji meaning
Smiley Emoji
Zany Face emoji