🤩 Star-Struck Emoji
Star Struck Emoji Meaning: 
Emojis were invented as a way to symbolically represent emotions. Star-Struck emoji is a yellow face smiley with a wide, open smile, revealing upper teeth, and stars for eyes, as if meeting a well-known superstar. The 🤩 meaning color of the stars varies greatly depending on the platform, although gold or red are the most popular. It means someone or something may be described as fascinating, impressive, or exciting. It's typically used to create a light, cool, and encouraging talking atmosphere.
When you feel inspired by someone and think that they have outsmarted you as well as have impressed you with your intelligence then you use the star-struck emoji. This emoji is used to show your positive inspiration for things or people around you. Meeting some star personalities is rare but meeting a smart person with no significant public appearance would really make you use this emoji.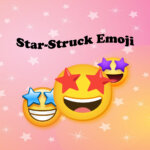 NOTE: Under the name "Grinning Face with Star Eyes" Star-Struck was approved as part of Unicode 10.0 in 2017 and added to Emoji 5.0 in 2017.
How to copy-paste star-struck emoji?
The star-stuck emoji copy and paste, starry eyes emoji meaning function is an amazing one. You can get any emoticon you need from heatfeed, an emoji site where you can get 10,000 copy and paste emojis. Follow the rules given,
1. Go to the site www.heatfeed.com
2. Search your favorite emoji from the search bar.
3. Copy the emoticon of your choice by clicking the copy button.
4. Paste the emoticon on the media platform you like.
Similar Emojis:
🤑 Money-Mouth Face is similar to the 🤩 Star-Struck emoji. Each emoji conveys a specific message, among many others.
Also Known As
🤩 Excited
🤩 Star Eyes
🤩 Starry Eyed
🤩 Wow Face
🤩 Fascinated
🤩 Amazed Emoji
Apple Name
🤩 Face with Starry Eyes
Unicode Name
🤩 Grinning Face with Star Eyes
Apple

Apple

iOS 14.6

iOS 11.1
Google

Google

Android 12.0

Android 11.0

Android 8.0
Samsung

Samsung

One UI 2.5

Experience 9.0
Microsoft

Microsoft

Windows 10 May 2019 Update

Windows 10 Fall Creators Update
WhatsApp

WhatsApp

2.21.11.17

2.19.7

2.17
Twitter

Twitter

Twemoji 13.1

Twemoji 2.3
Facebook

Facebook

13.1

3.0

2.1
Codepoints
🤩 U+1F929
Shortcodes
:star_struck: (Github)
:star-struck: (Github)
:grinning_face_with_star_eyes: (Slack)
emoji copy and paste
Star Emoji copy and paste
Star-Struck Emoji