😃 Grinning Face with Big Eyes Emoji
Grinning Face with Big Eyes
Emoji Meaning:
Emojis were invented as a way of symbolically expressing feelings. Grinning Face with Big Eyes Emoji is a yellow face smiley with bright eyes and a wide, welcoming smile that may be seen, with upper teeth and tongue on some platforms. Frequently expresses widespread joy and good-natured merriment. This Big Eyes emoji is often used by the texter to demonstrate support for a message that received a positive response.
A grinning face with big eyes shows a person's happiness at an extreme level. When someone is teasing you mockingly and you feel abashed and happy at the same time then you use this emoji. If you ever feel this happy in your life again, do use the grinning face emoji to express your cheerfulness.
NOTE: Under the name "Smiling Face with Open Mouth", Grinning Face with Big Eyes was approved as part of Unicode 6.0 in 2010 and included in Emoji 1.0 in 2015.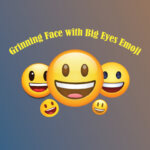 How to copy-paste the grinning face with big eyes emoji?
The grinning face with big eyes emoji copy and paste theme is popular among many individuals. Heatfeed.com has countless emoticons and has 10,000 copy and paste emoji functions
In the initial step, you go to the site heatfeed.com.
on the hunt/search bar, write your emoticon name.
see a button that should say "duplicate /copy the emoticon".
paste it on any social media platform you love the most.
Similar Emojis
Other emojis that are similar to 😃 Grinning Face with Big Eyes emoji are 😀 Grinning Face, 😄 Grinning Face with Smiling Eyes, 😆 Grinning Squinting Face, 🤪 Zany Face, 😂 Face with Tears of Joy, 🤣 Rolling on the Floor Laughing, 🤠 Cowboy Hat Face, 😛 Face with Tongue, 😝 Squinting Face with Tongue. Each emoji conveys a unique message, among many others.
Also Known As
😃 Grinning Face Emoji
😃 Amused Face Emoji
😃 Happy Face Emoji
😃 Smiley Face Emoji
😃 Big Eyes Emoji
Apple Name
😃 Grinning Face with Big Eyes
Unicode Name
😃 Smiling Face with Open Mouth
Apple

Apple

iOS 14.6

iOS 10.2

iOS 10.0

iOS 8.3

iOS 6.0

iOS 5.1

iOS 4.0
iPhone OS 2.2
Google

Google

Android 12.0

Android 11.0

Android 8.0

Android 7.0

Android 5.0

Android 4.4

Android 4.3
Gmail
Samsung

Samsung

One UI 2.5

Experience 9.0

TouchWiz 7.1

TouchWiz 7.0

TouchWiz Nature UX 2
Microsoft

Microsoft

Windows 10 May 2019 Update

Windows 10 April 2018 Update

Windows 10 Anniversary Update

Windows 10

Windows 8.1

Windows 8.0
WhatsApp

WhatsApp

2.20.206.24

2.19.7

2.17
Twitter

Twitter

Twemoji 13.1

Twemoji 1.0
Facebook

Facebook

4.0

3.0

2.0

1.0
Messenger

Messenger

1.0
Codepoints
😃 U+1F603
Shortcodes
:smiley: (Github, Slack)
emoji copy and paste
emoji meaning
Grinning Face
Grinning Face with Big Eyes Emoji
Smiling Face with Open Mouth