😪 Sleepy Face Emoji
Sleepy Face Emoji Meaning: 
Emojis were created as a way to express emotions symbolically. Sleepy Face emoji is a yellow face smiley with closed eyes, relaxed brows, an open mouth indicating a small yawn, and a snot bubble emerging from a non-existent nose. The sleepy emoji denotes sleepiness, laziness, crashing, being tired, and so on. While it is sometimes used to express dissatisfaction, sadness, or illness.
Sometimes when you feel disinterested in someone talking then you use the emoji called sleepy face. When you are in need of sleep and you have been in a state of unrest for so long then you use this emoji. This emoji shows that you won't be doing anything except sleeping. Use it at the dawn of the weekend.
NOTE: The Sleepy emoji was added to the Unicode 6.0 in 2010 and added to Emoji 1.0 in 2015.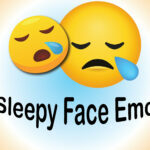 How to copy-paste the sleepy face emoji?
The sleepy face emoji shows your sleepiness, your low energy, and your fatigue. Whenever you are not interested in doing something and you have to do it, make an excuse for not doing it by sending this emoji. 10000 emojis copyand paste from the site called heatfeed.com. The procedure for doing so is being written here. Follow it so that you can get your emoji easily copied.
1. Go to the site and search for your emoji for copying.
2. Once you have searched for it, press the button called copying the button
3. After you have copied it, paste it somewhere you want to.
Similar Emojis:
There are some other emojis that are similar to 😪 Sleepy Face emoji are 🥱 Yawing Face, 😢 Crying Face, 😴 Sleeping Face, 😫 Tired Face, 🤤 Drooling Face, 😰 Anxious Face with Sweat, and 😥 Sad but Relieved Face. Every emoji passes on an exceptional message, among numerous others.
Also Known As
😪 Side-Tear
😪 Snot Bubble
😪 Drowsy Emoji
😪 Exhausted Face
😪 Tired Face Emoji
😪 Sleepy Emoji
Apple Name
😪 Sleepy Face
Apple

Apple

iOS 14.6

iOS 10.2

iOS 10.0

iOS 8.3

iOS 6.0

iOS 5.1

iOS 4.0
iPhone OS 2.2
Google

Google

Android 12.0

Android 11.0

Android 9.0

Android 8.0

Android 7.0

Android 5.0

Android 4.4

Android 4.3
Gmail
Samsung

Samsung

One UI 3.1.1

Experience 9.1

Experience 9.0

TouchWiz 7.1

TouchWiz 7.0

TouchWiz Nature UX 2
Microsoft

Microsoft

Windows 10 May 2019 Update

Windows 10 April 2018 Update

Windows 10 Anniversary Update

Windows 10

Windows 8.1

Windows 8.0
WhatsApp

WhatsApp

2.21.11.17

2.19.7

2.17
Twitter

Twitter

Twemoji 13.1

Twemoji 1.0
Facebook

Facebook

13.1

3.0

2.0

1.0
Messenger

Messenger

1.0
Codepoints
😪 U+1F624
Shortcodes
:sleepy: (Github, Slack)
emoji copy and paste
emoji meaning
sleepy face emoji
Smiley Emoji