😴 Sleeping Face Emoji
Sleeping Emoji 😴 Meaning: 
Emojis were invented as a way to express emotions symbolically. Sleeping Face emoji is a yellow face smiley with deeply closed eyes, an 'O' for a mouth that indicates snoring, and a pair of the letter 'Z' on the head's corner. The sleeping emoji is also used to show boredom, slang, or snoozing.
NOTE: The sleeping emoji was approved as a component of Unicode 9.0 in 2016 and added to Emoji 3.0 in 2016.
| | |
| --- | --- |
| Emoji: | 😴 |
| Name: | Sleeping Face |
| Meaning: | boredom, slang, snoozing |
| Unicode version: | None |
| Emoji and IOS version: | Emoji and IOS |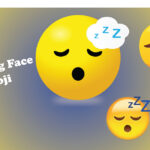 When was Sleeping Face added to the emojis category? 
In 2016, the Sleeping face emoji was endorsed under Unicode 9.0 and added to the emoji category. This emoticon is the classic representation of slang, snoozing, and boredom.
How Can I Copy-Paste Sleeping Face Emoji?
Copy-paste sleeping face emoji became very convenient by using heatfeed.com. You have to do a few clicks and then boom you are able to do sleeping face emoji copy and paste on any platform. Below are the steps that guide you to 10000 emojis copy and paste any emoticon:
Visit heatfeed.com. Find the emoji that you want to copy and click on it.
Click on the copy icon and it will instantly copy on your system.
Now you are able to paste it on any online platform like Facebook, Instagram, Whatsapp, etc.
Who uses 😴 Sleeping Face Emoji?
People use this emoji when they are talking about their boring routine with their friends. Sometimes users used this emoji when they are going to bed and say good night to their buddies. It is most commonly used to show your boredom, tiredness, or sleepiness.
Lavish combination to use 😴 Sleeping Face Emoji
Lavish combinations are a set of various emojis that are placed together in a manner to make your text more impressive and fascinating. Below are the ideas to use sleeping face emoji with different emoticons:
I am getting bored 😴😪😪
I am so tired I almost fall asleep 😴😵🥴
​😴​📖​📖​ bedtime stories
​😄​😀​🙂​😕​☹️️​😴​❓​ how do you feel
​It's time to sleep 🛌​💤​😴​
​😴​🛌​🕛​ staying up until midnight
​🕙​🛌​💤​😴​ go get a peaceful sleep, there is no hurry.
Similar Emojis:
There are some other emojis that are similar to the 😴 Sleeping Face emoji are 🥱 Yawing Face, 😫 Tired Face, and 😴 Sleepy Face emoji. Every emoji passes on a special message, among numerous others.
Also Known As
😴 Sleep Face
😴 Snoring
😴 Zzz Face
😴 Fast Asleep
😴 Tired Emoji
😴 Bored Emoji
😴 Sleepy Emoji
😴 Goodnight Emoji
Apple Name
😴 Sleeping Face
😴 Sleeping Face Emoji look across various devices
Every emoji look different on various online platforms. It is because every OS, web service and gadgets manufacturer designs them with their own unique ideas and visions. We have drawn a table below for your ease, so you can check out the difference in the appearance of every emoticon on different platforms.
Apple

Apple

iOS 14.6

iOS 10.2

iOS 10.0

iOS 8.3

iOS 6.0
Google

Google

Android 12.0

Android 11.0

Android 9.0

Android 8.0

Android 7.0

Android 5.0

Android 4.4
Samsung

Samsung

One UI 3.1.1

Experience 9.0

TouchWiz 7.1

TouchWiz 7.0

TouchWiz Nature UX 2
Microsoft

Microsoft

Windows 10 May 2019 Update

Windows 10 Anniversary Update

Windows 10

Windows 8.1

Windows 8.0
WhatsApp

WhatsApp

2.21.11.17

2.19.62

2.17
Twitter

Twitter

Twemoji 13.1

Twemoji 2.7

Twemoji 1.0
Facebook

Facebook

13.1

3.0

2.0
Messenger

Messenger

1.0
Codepoints
😴 U+1F634
Shortcodes
:sleeping: (Github, Slack)
emoji copy and paste
emoji meaning
sleeping face emoji
Smiley Emoji