😫 Tired Face Emoji
Tired Face Emoji Meaning:
Emojis were used to represent emotions symbolically. The tired Face emoji is a yellow face smiley with raised eyebrows, with eyes shredded, and a large, open downward mouth with visible upper teeth. As its name suggests, this tired smiley face emoji relates to tiredness and fatigue. In most circumstances, it transmits exhaustion, frustration, tiredness, or tension.
Some of the other emojis with similar meanings and expressions are also in trend to use in a combination of tired emoji 😫, weary face emoji 😩, and sleepy face emoji 😴. All of these emojis show the same feelings of being tired and sleepy due to tiredness and sadness. They may be collectively used for expressing your mood and feelings on digital media in digital conversations. There are a number of such social networking platforms like heatfeed.com that offer 10000 emojis copy and paste options for their users.
NOTE: As part of the Unicode 6.0 project, Tired Face was approved in 2010 and added in 2015 to Emoji 1.0.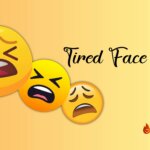 How to Copy and Paste the Tired Face Emoji?
The tired face emoji copy and paste process are very simple and easy. Even a fresh user can also complete the task successfully in his very first attempt. Because the process involves a few simple and easy steps to follow. These steps include:
To open the social website heatfeed.com on an available device.
Enter the keywords for the desired emoji.
Click on the '' Copy '' icon.
The task has been completed successfully.
These copied emojis can be pasted on any of the social networking platforms to enhance the meaning of your conversation. These may also be used to make your normal text attractive and efficient with exact expressions.
Similar Emojis:
Some of the other emojis that are similar to the 😫 Tired Face emoji are 😩 Weary Face 😣 Persevering Face, and 🥱 Yawning Face emoji. Among many others, each emoji sends a distinct message. Besides these emoticons, there are also many relating emojis that can help you express the same meanings and expressions during digital conversations. These emojis include 😠 Angry Face, 😧 Anguished Face, 😖 Confounded Face, 😥 Sad but Relieved Face, 😵 Face with Crossed-Out Eyes, 😰 Anxious Face with Sweat, 😯 Hushed Face, 😭 Loudly Crying Face, ☹️ Frowning Face, 🥱 Yawning Face.
Also Known As
😫 Exhausted Emoji
😫 Fed Up
😫 Tired Emoji Face
😫 Stressed Emoji
😫 Moan Emoji
😫 Devastated Emoji
😫 Exasperated Emoji
😫 Moaning Emoji
😫 Fed Up Emoji
😫 Buzy Emoji
😫 Exasperation Emoji
Apple Name
😫 Distraught Face
Apple

Apple

iOS 14.6

iOS 10.2

iOS 10.0

iOS 8.3

iOS 6.0

iOS 5.1
Google

Google

Android 12.0

Android 11.0

Android 9.0

Android 8.0

Android 7.0

Android 5.0

Android 4.4

Android 4.3
Samsung

Samsung

One UI 3.1.1

One UI 2.5

Experience 9.0

TouchWiz 7.1

TouchWiz 7.0

TouchWiz Nature UX 2
Microsoft

Microsoft

Windows 10 May 2019 Update

Windows 10 April 2018 Update

Windows 10 Creators Update

Windows 10 Anniversary Update

Windows 10

Windows 8.1

Windows 8.0
WhatsApp

WhatsApp

2.21.11.17

2.19.62

2.17
Twitter

Twitter

Twemoji 13.1

Twemoji 1.0
Facebook

Facebook

13.1

4.0

3.0

2.0

1.0
Messenger

Messenger

1.0
Codepoints
😫 U+1F62B
Shortcodes
:tired_face: (Github, Slack)
emoji copy and paste
emoji meaning
Smiley Emoji
tired face emoji