🥱 Yawning Face Emoji
Yawning Face Emoji Meaning:
Emojis were created to represent feelings symbolically. The yawning Face emoji is a yellow face smiley with closed eyelids and a hand covering a mouth that is wide open. This emoji shows a lack of sleep or boredom with a person or issue.
You can also be creative and use this emoji to express your hunger. To show your boredom use it with the 💤 Zzz emoji. Or you can combine it with a 🍕 Food-themed emoji, such as 🍔 Hamburger Emoji, that shows you're so hungry, that the first food you see is shoved in your mouth.
NOTE: As part of Unicode 12.0, the Yawning emoji was approved in 2019 and added in 2019 to Emoji 12.0.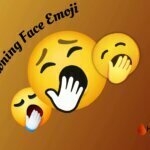 How to Copy and Paste the Yawning Face Emoji?
If you are in need of an emoji that can represent the sleeplessness and tired condition. So it's very easy and simple to yawning face emoji copy and paste/yawn emoji copy and paste the emojis by using the most popular social website that is heatfeed.com. It offers its users more than 10000 emojis copy and pastes facility. It involves very simple and easy steps to copy and paste the desired emoji. These steps include:
To open the heatfeed.com website on your mobile phone.
Search for the desired emoji to be copied.
Click on the ''Copy'' icon.
The emoji will be automatically copied.
Now you can easily paste the copied emoji on any of the trending social media platforms including Instagram, Facebook, Twitter, and many more. It will make your conversation meaningful and attractive as compared to normal and ordinary words.
Similar Emojis:
🤭 Face with Hand Over Mouth is similar to 🥱 Yawning Face emoji. Among many others, each emoji conveys a distinct message. Some other relevant emojis for expressing the same meanings can also be used like 🛌 Person in Bed, 😴 Sleeping Face, 💤 Zzz, 😪 Sleepy Face, 😫 Tired Face, 🛏️ Bed.
Also Known As
🥱 Boring Emoji
🥱 Sleepy Face Emoji
🥱 Not Interested
🥱 Fed Up
🥱 Sarcastic Emoji
🥱 Bored Emoji Face
🥱 Wake up Emoji
🥱 Yawn Emoji
Apple Name
🥱 Yawning Face
Apple

Apple

iOS 14.6

iOS 13.2
Google

Google

Android 12.0

Android 11.0

Android 10.0
Samsung

Samsung

One UI 3.1.1

One UI 1.5
Microsoft

Microsoft

Windows 10 May 2019 Update
WhatsApp

WhatsApp

2.21.11.17

2.19.352
Twitter

Twitter

Twemoji 13.1

Twemoji 12.0
Codepoints
🥱 U+1F971
Shortcodes
:yawning_face: (Github, Slack)
emoji copy and paste
emoji meaning
Smiley Emoji
yawning face emoji