🤤 Drooling Face Emoji
Drooling Emoji Meaning: 
Emojis were used as a way to express emotions symbolically. Drooling Face emoji is a yellow face smiley with sighing eyes and a softly lifted eyebrow, as well as a slightly open mouth and saliva dripping from a corner. The Drooling emoji expresses a desire for something, which could be food, a travel location, or even a person. This emoji can also be interpreted as a sexual innuendo for thirst (because of the drool) or hunger.
When you want to ask somebody about a particular thing and that person is not collaborating with you, you can send him this emoji. It would tell them that you are inquiring about something he is so keen to keep secret.
NOTE: Unicode 9.0 added the drooling emoji in 2015 and added to emoji 3.0 in 2016.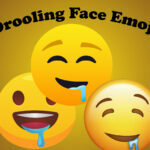 How to copy-paste drooling face emoji?
When you are at a low energy level and sugar is dropping low continually then you can use the drooling face emoji. This emoji is used to express hunger, pain, or frustration. 
The drooling face emoji is used by a lot of people on the internet. This emoji is copied by hundreds of people. If you want to drooling emoji copy it too then you should get a website of 'emoji copying site' and have your best emoji there.
Follow the following rules to get to the emoji.
1. Get to the website called heatfeed to get your best emoji there.
2. Search for your best emoji using the search bar.
3. 10000 emojis copy and paste with the copying button and let the keyboard remember your emoji.
4. Paste it anywhere you want to like social media handlers and other apps.
Similar Emojis:
There are some other emojis that are similar to the 🤤 Drooling Face emoji are 😉 Winking Face, ☺️ Smiling Face, and 😊 Smiling Face with Smiling Eyes. Every emoji passes on a singular message, among many others.
Also Known As
🤤 Drool Emoji
🤤 Thirsty Emoji
🤤 Hungry
🤤 Sleepy Emoji
🤤 Sexual Attraction
🤤 Infatuation
🤤 Flirty Emoji
Apple Name
🤤 Drooling Face
Apple

Apple

iOS 14.6

iOS 10.2
Google

Google

Android 12.0

Android 11.0

Android 10.0

Android 8.0

Android 7.0
Samsung

Samsung

One UI 3.1.1

One UI 2.5

Experience 9.0

TouchWiz 7.1
Microsoft

Microsoft

Windows 10 May 2019 Update

Windows 10 April 2018 Update

Windows 10 Anniversary Update
WhatsApp

WhatsApp

2.21.11.17

2.19.7

2.17
Twitter

Twitter

Twemoji 13.1

Twemoji 2.1
Facebook

Facebook

13.1

3.0

2.0
Codepoints
🤤 U+1F924
Shortcodes
:drooling_face: (Github, Slack)
Drooling Face Emoji
emoji copy and paste
emoji meaning
Smiley Emoji