😥 Sad but Relieved Face Emoji
Relieved Emoji Meaning: 
Emojis were designed to represent feelings symbolically. Sad but Relieved Face emoji is a yellow face smiley with a small frown, furrowed eyebrows, and one dripping bead of sweat on its forehead. Worry, Disappointment, exhaustion, and relief are common emotions associated with this word.
NOTE: Sad but Relieved Face was approved as part of Unicode 6.0 in 2010 under the name "Disappointed but Relieved Face" and added to Emoji 1.0 in 2015.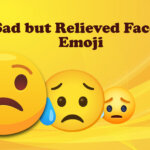 How to copy-paste the sad but relieved emoji?
The sad but relieved Emoji is one of the most popular emojis on the web. Used to describe difficult situations which you have passed efficiently. If you want to get more than 10000 emojis copy and paste, you can do it using Heatfeed.com. Heatfeed Emoji is one of the best emoji sites where you can get the emoji you want to copy. Follow the steps below to use emojis with your fingertips. 
1. Go to the website and search for the emoji.
2. If you are looking for an emoji, you can copy and paste the emoji from the website by pressing the appropriate button.
3. After copying, you can easily paste it on your computer.
Similar Emojis:
There are many other emojis that are similar to 😥 Sad but Relieved Face emoji are 😿 Crying Cat, 😢 Crying Face, 😓 Downcast Face with Sweat, 😪 Sleepy Face, 🥵 Hot Face, and 😰 Anxious Face with Sweat. Among many others, each emoji transmits a distinct message.
Also Known As
😥 Eyebrow Sweat
😥 Relief Emoji
😥 Relaxed Emoji
😥 Relieved Emoji
😥 Disappointed Face
Apple Name
😥 Sad but Relieved Face
Unicode Name
😥 Disappointed but Relieved Face
Apple

Apple

iOS 14.6

iOS 10.2

iOS 10.0

iOS 8.3

iOS 6.0

iOS 5.1

iOS 4.0
iPhone OS 2.2
Google

Google

Android 12.0

Android 11.0

Android 10.0

Android 9.0

Android 8.0

Android 7.0

Android 5.0

Android 4.4

Android 4.3
Samsung

Samsung

One UI 3.1.1

One UI 2.5

Experience 9.1

Experience 9.0

TouchWiz 7.1

TouchWiz 7.0

TouchWiz Nature UX 2
Microsoft

Microsoft

Windows 10 May 2019 Update

Windows 10 April 2018 Update

Windows 10 Anniversary Update

Windows 10

Windows 8.1

Windows 8.0
WhatsApp

WhatsApp

2.21.11.17

2.19.7

2.17
Twitter

Twitter

Twemoji 13.1

Twemoji 1.0
Facebook

Facebook

13.1

3.0

2.0

1.0
Messenger

Messenger

1.0
Codepoints
😥 U+1F625
Shortcodes
:disappointed_relieved: (Github, Slack)
emoji copy and paste
emoji meaning
Sad but Relieved Face Emoji
Smiley Emoji