🧡 Orange Heart Emoji
Orange Heart Emoji Meaning:
An orange heart emoji is a classical representation of care and friendship. It gives positive vibes that make good friends, creativity, happiness, sunshine, joy, and encouragement. People also use these orange hearts with 🍊 Tangerine and 🥕 carrot to express their desire and love for them. A 🧡 heart also used all related things of orange color.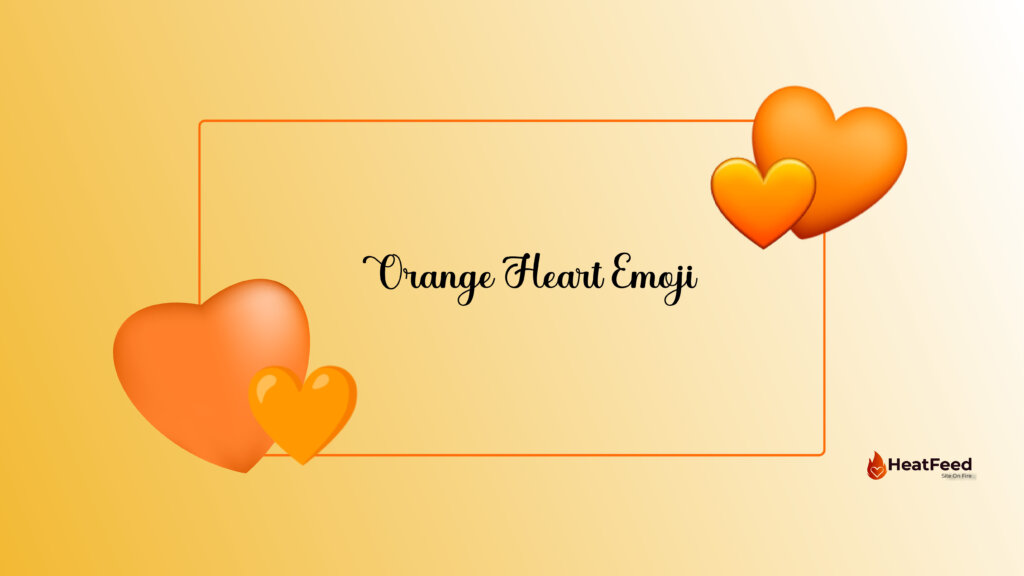 | | |
| --- | --- |
| Emoji: | 🧡 |
| Name: | Orange Heart Emoji |
| Meaning: | Good Friends, Joy, Creativity, Happiness, Sunshine, and Encouragement. |
| Unicode Version: | Unicode 10.0 |
| Emoji and iOS Version: | Emoji 5.0 and iOS 14.6 |
When was Orange Heart added to the emojis category?
The emoji orange heart was endorsed under Unicode 10.0 in 2017 and later on added to the smiley and emoticon category. This heart emoji is a classic representation of happiness, sunshine, and creativity.
How can you Copy-Paste Orange Heart Emoji?
You can easily copy and paste any emoji by using our website. You have to just do a few clicks and your desired emoji will immediately copy onto your gadget. Below are the steps that guide you to 10000 heart emojis copy and paste by using the Heatfeed.
Visit heatfeed.com. Search for the emoji you want to copy and tap on it.
Tap on the Orange heart emoji copy icon and it will instantly copy on your device.
Who uses 🧡 Orange Heart Emoji?
Most generally emoji orange heart is used to indicate a good friendship. What does the orange heart meaning, from a girl? It means she wants to send warmth and care, sunshine does not contain strong romantic flirting and indicates support, openness, and friendly intentions. When a boy sends 🧡 heart means that he only sees you as a friend nothing else. Other than these, People also use this heart with basketball emoji 🏀 to show their support for their favorite basketball team.
Lavish combination to use 🧡 Orange Heart Emojis:
Lavish combinations are basically a set of different emojis that are placed together to make your content more impressive and fascinating. Below are some ideas to use the orange hearts emoji with other emojis in your text:
No, thanks, I don't want to go there. But don't worry, I am fine… 🧡😊😊
​🍊​🧡​🥕 what do you prefer?
I love watching a basketball match 🏀🧡
Orange is my favorite color 🧡🎨
Similar Heart Emojis:
A similar heart emoji exist as Orange Book 📙, Orange Square 🟧, white heart emoji 🤍, pink heart emoji, black heart emoji 🖤, Orangutan 🦧, purple heart emoji 💜, blue heart emoji 💙, broken heart emoji 💔, coupled with heart 💑, red heart ❤️, green heart emoji 💚, Smiling face with a heart eyes emoji 😍, sparkling heart emoji 💖, yellow heart emoji 💛, two heart emoji 💕, heart on fire ❤️‍🔥, and many others emojis that express the specific feelings also gives a particular feeling full meaning and message. Our Website facilitates you with 10000 emojis copy and pastes with various colored emojis. You can also learn about the meaning, Unicode, and Shortcodes of every emoji.
Apple Name
🧡 Orange Heart Emoji look across various gadgets
Orange love emojis and other emoticons look different across different gadgets. Because every web service, gadget, or OS manufacturer designs emojis with their unique ideas. We have drawn a table of orange heart emojis on different platforms so that you can easily check the difference in their look.
Google
Andriod 12.0
Android 11.0
Android 8.0
Samsung
One UI 2.5
One UI 1.0
Experience 9.0
Microsoft
Window 10 May 2019 Update
Window 10 Fall Creators Update
Twitter
Twemoji 13.1
Twemoji 1.3.0.1
Twemoji 2.3
Codepoints:
🧡 U+1F9E1
Shortcodes
:orange_heart: (Github, Slack)
emoji copy and paste
orange heart emoji
orange heart meaning