💛 Yellow Heart Emoji
Yellow Heart Emoji Meaning:
A Yellow heart emoji is used to express love and friendship. The golden heart emoji meaning is used to express liking as opposed to romantic love. Yellow hearts meaning also shows happiness and are used for other things like yellow sports team colors dresses. This is most likely to be used in a familial relationship. This hairy heart emoji is shown as a "pink hairy heart" on Android 4.4.
Yellow heart Snapchat, a person that next to a contact denotes snap the most, also snap you the most #1 best friend. This golden heart Snapchat #1BF turns into a red heart after two weeks.
NOTE: The Unicode 6.0 of the Yellow heart emoji was approved in 2010 and added to Emoji 1.0 in 2015.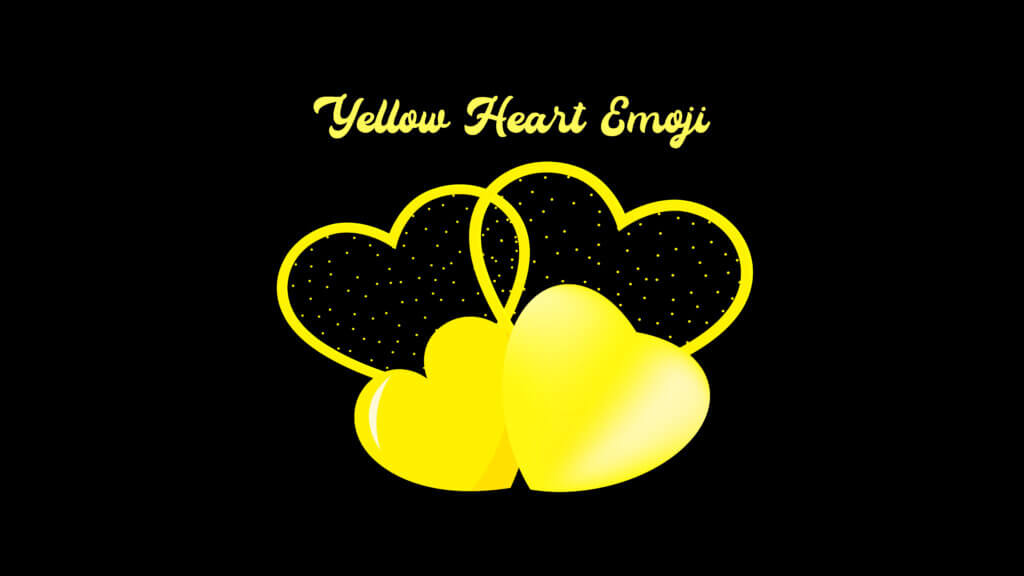 Where does 💛 heart emoji yellow come from?
In 2010 the Golden heart emoji 💛 was approved under Unicode 6.0. It looks like yellow shining with a golden hue. Yellow color is all about happiness, hope, and positivity. Sunshine helps explain why this emoji is still used for love, happiness, friendship, joy, and romantic passion. On Snapchat, this emoji was first introduced in 2015.
Who uses 💛 Yellow Heart emojis?
Because of its heart, it will convey love but due to color, it can be another type of love. Like love feelings for friends, family, and other relationships. It also goes for expressing happiness and hope.
How to do 💛Yellow heart copy and paste emoji?
Yellow heart emoji copy and paste by following given steps:
Select the symbol and press Ctrl+C. Or simple copy option is available on our site click on this and it would be automatically copied.
Paste emoji on your desired place by using keyboard shortcodes Ctrl+V.
Now you have done and enjoy your emoji!
Lavish Combination to use Golden Heart emoji
I love you 💛
I like all the new stuff so much 💛
You are my best friend 👯💛💛
I miss you 💛 😭
I am grateful to you, for making my day 💛💛( golden heart emoji: Sunshine)
Waoo what a happy day 💛💛🤗
You will win 💛💪
Be hopeful, bright future is there 💛☀️
Similar Emojis
There is a lot of similar emojis of yellow heart emoji exist as growing heart 💗, heart with ribbon 💝, orange heart 🧡, beating heart 💓, heart with arrow 💘, brown heart 🤎, revolving heart 💞, purple heart 💜, white heart 🤍, black heart 🖤, green heart 💚, red heart ❤️, coupled with heart 💑, two hearts 💕, broken heart 💔, and many others emojis in which each particular heart has a specific message.
Also Known As
💛 #1 BF Snapchat
💛 Gold Heart emoji
Apple Name
💛 Yellow Heart
Apple
iOS 14.6
iOS 10.2
iOS 8.3
iOS 6.0
iOS 5.1
iOS 4.0
iPhone OS 2.2
Google
Andriod 12.0
Android 11.0
Android 8.0
Android 7.0
Android 5.0
Android 4.4
Android 4.3
Samsung
One UI 2.5
One UI 1.0
Experience 9.0
TouchWiz 7.1
TouchWiz 7.0
TouchWiz Nature UX 2
Microsoft
Window 10 May 2019 Update
Window 10 Anniversary Update
Window 10
Window 8.1
Window 8.0
WhatsApp
2.20206.24
2.17
Twitter
Twemoji 13.1
Twemoji 1.0
Messenger
1.0
Codepoints
💛 U+1F49B
Shortcodes
:yellow_heart: (Slack, Github)
emoji copy and paste
gold heart
golden heart emoji
hairy heart emoji
yellow heart emoji
yellow heart on Snapchat
yellow heart Snapchat