💞 Revolving Hearts Emoji
Revolving Heart Emoji Meaning:
Revolving hearts emoji are hearts revolving around one or more hearts. On a number of Japanese devices, this emoji was animated. Google displays this as five hearts in a circle-like shape. Apple devices display these two hearts switching places with a circular line.
The revolving hearts emoji meaning express a dizzying feeling of love, affection, joy, and overwhelming. 💞 meaning in a text is used as being in love e.g "I adore this!", "I am in love with him or her!". these two pink hearts indicate the chemistry of two closely related hearts.
NOTE: The Unicode 6.0 of revolving hearts (two hearts) was approved in 2010 and added to Emoji 1.0 in 2015.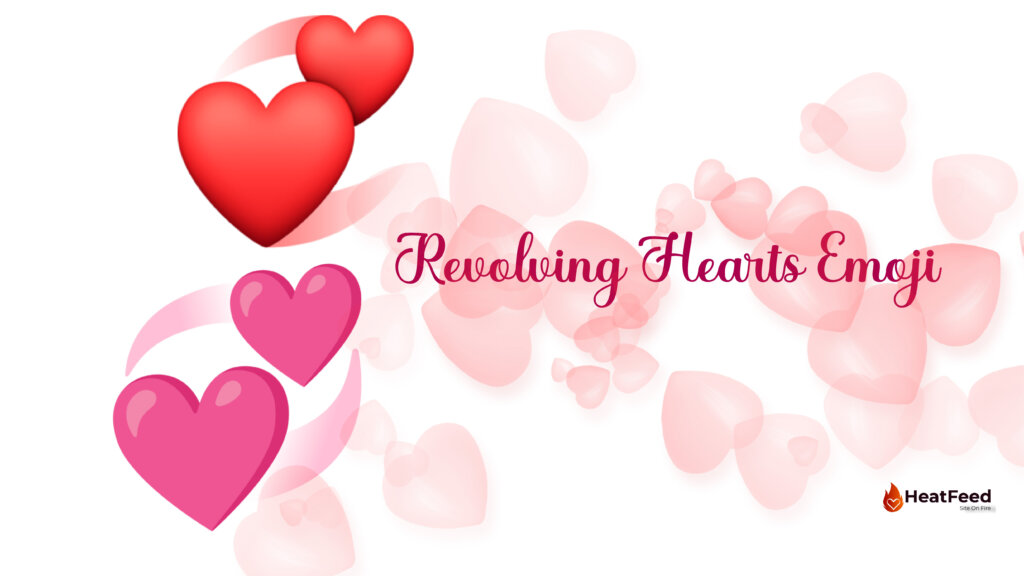 When was the 💞 Revolving hearts emoji added?
The spinning heart emoji was added under the Unicode of 6.0 in 2010. It was part of a love gala: broken heart 💔, heart decoration 💟, beating heart 💓, two hearts 💕, and growing heart 💗.
Most platforms characterize a pink heart or red heart in the upper right next to a larger one in the lower left both hearts and ribbons are similar in color. Representing that they are circulating. The revolving pink heart emoji meaning is a mutual love for something.
Who uses the 💞 revolving heart emoji?
Revolving hearts emoji 💞 is utilized to reflect devastating, affection, joy, or dizzying. People who want to show mutual love for something or affection between people.
As one single heart is moving around love between two people. It has the same meaning on all social media platforms but has a different appearance. Such as Instagram, Twitter, Apple, Facebook, Google, etc.
How to copy and paste emojis?
Revolving heart emoji copy and paste to the conversation makes a place in the next person's heart. Follow these steps to 10000 emojis copy and paste,
All you need is to select, copy and paste this symbol 💞.
Select this as a regular text, press Ctrl + C or you can copy it to the pop-up menu.
Now paste it to the place you want. Just press Ctrl +V or right-click and select the paste option.
Now enjoy your Chatting with amazing symbols.
Lavish Combination to use Revolving heart emoji?
These circle heart emojis can be used with other emojis to create a lavish combination. Some are given below
Love two hearts ​👩‍❤️‍👩​💞​
Loving Role Models ​👪​💞​☺️​
I want nothing but love from him it's crazy 💘💞💞
Thank you all my friends! 🧑‍🤝‍🧑💞
Wish you the best of luck my rider ✌️💞
I have the best people in my life so I won't cry 😢💞
Ugh, my heart 😫💞💞💞💞
Similar Emojis:
There are a lot of similar emojis of rotating hearts emojis exist as broken heart 💔, red heart ❤️, heart with arrow 💘, green heart 💚, heart exclamation ❣️, purple heart 💜, Rosette 🏵️, white heart 🤍, yellow heart 💛, heart with ribbon 💝, black heart 🖤, coupled with heart 💑, orange heart 🧡, beating heart 💓, growing heart 💗, brown heart 🤎, two hearts 💕, and many others heart symbols, emojis that are used to express a specific message and meanings.
Our Website heatfeed.com facilitates you with two hearts emoji copied and pasted with a variety of colored heart emojis. You can also learn emoji meanings, Unicodes, and shortcodes related to any emoji.
Also Known As
💞 Two Hearts
Apple Name
💞 Revolving Hearts
Apple



Apple

iOS 15.4

iOS 10.2

iOS 8.3

iOS 6.0

iOS 5.1
Google


Google

Android 12L

Android 12.0

Android 8.0

Android 7.0

Android 5.0

Android 4.4

Android 4.3
Samsung


Samsung

One UI 4.0 January 2022

One UI 1.0

Experience 9.0

TouchWiz 7.1

TouchWiz 7.0

TouchWiz Nature UX 2
Microsoft



Microsoft

Windows 11 November 2021 Update

Windows 10 Anniversary Update

Windows 10

Windows 8.1

Windows 8.0
Twitter



Twitter

Twemoji 14.0

Twemoji 11.1

Twemoji 1.0
Codepoints
💞 U+1F49E
Shortcodes
: revolving_hearts : (Slack, Github)
emoji copy and paste
heart copy and paste
heart symbols
revolving hearts emoji