💚 Green Heart Emoji
Green Heart Emoji Meaning 💚 :
A Green Heart emoji is used frequently on Twitter as a reference to the Korean boy band NCT. The green emoji expresses love for someone crazy, close bonds, support, and admiration.
This emoji heart is usually believed positive because the green color is linked with renewal and growth. The emoji green is also associated with possessive love, envy, or jealousy. People use this 💚 emoji green heart with vegetable emoji to express their love for green vegetables like 🍀 Four Leaf Clover, 🥦 Broccoli, or 🥒 Cucumber.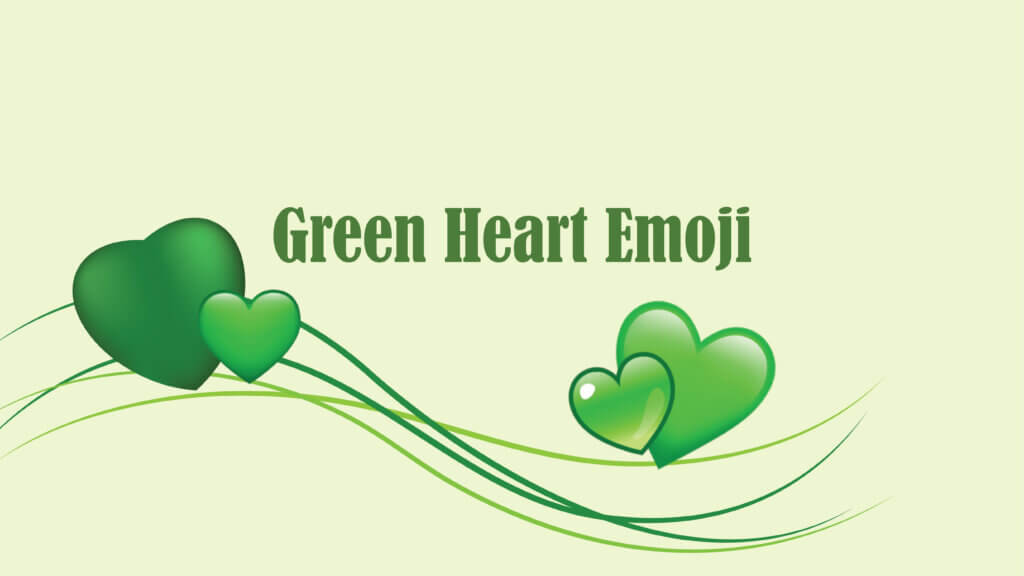 | | |
| --- | --- |
| Emoji: | 💚 |
| Name: | Green Heart Emoji | NCT Heart Emoji | Green Love Emoji |
| Meaning: | Possessive love, Envy, Jealousy, Growth, Renewal |
| Unicode Version: | Unicode 6.0 |
| Emoji and iOS Version: | Emoji 1.0 and iOS 14.6 |
When was Green Heart added to emojis?
The 💚 green emoji heart was approved in 2010 in the category of smiley and emoticon. It is the classic representation of jealousy, envy, and improvement.
How to Copy and Paste Green Heart Emoji?
With just a few clicks, you can easily green heart emoji copy and paste your favorite emoticon by using the Heatfeed. You have to just follow the given steps to 10000 heart emoji copy and paste:
The first thing you have to do is find your favorite emoticon on Heatfeed.com.
Click on the green heart emoji copy icon and it will automatically copy onto your system.
Now paste it on wherever online platform you like.
Who uses 💚 Green Heart Emoji?
The 💚 is most frequently used by lovers or couples. If a girl or guy, who are best friends or lovers, uses these green hearts, it means they are getting jealous of something.
Sometimes they use it to show love for their close bond. A lot of people also use this to express their love for green vegetables.
Lavish combination to use 💚 Green Heart Emojis:
Unique combinations to use a set of emoticons together and express your feelings without using actual words. Below are the suggestion to use the heart green emoji with other emojis to show your feelings more impressively:
🦖🐲​💚​ My extreme love for Dinosaurs
Who is that girl? 😡💚
I hate it when somebody gets close to you 😑😤💚
I love to eat green vegetables 💚🥦🥒
Pakistan 💚🇵🇰
We are friends forever 💚👫
Similar Emojis:
There is a lot of similar heart emojis including broken heart 💔, growing heart 💗, heart with ribbon 💝, orange heart 🧡, beating heart 💓, two hearts 💕, brown heart 🤎, resolving heart 💞, purple heart 💜, Heart with arrow 💘, white heart 🤍, Yellow heart 💛 emoji,  black heart 🖤, red heart ❤️, coupled with heart 💑,  green heart iPhone emoji, and many others emojis in which each heart has a special message. Our website facilitates you with 10000 emojis copied and pastes with a variety of many other colored symbols. You can also get meaning, Unicodes, and shortcodes related to any emoji.
Apple Name
💚 Green Heart
💚 Green Heart Emoji look across various devices
Emojis look different on multiple social media platforms. Every manufacturer creates them with their unique and awesome ideas. You can easily see the 💚 green love emoji difference on platforms like Facebook, Twitter, Whatsapp, Instagram, Google, etc in the given below table.
Apple
iOS 14.6
iOS 10.2
iOS 8.3
iOS 6.0
iOS 5.1
iOS 4.0
iPhone OS 2.2
Google
Andriod 12.0
Android 11.0
Android 8.0
Android 7.0
Android 5.0
Android 4.4
Android 4.3
Samsung
One UI 2.5
One UI 1.0
Experience 9.0
TouchWiz 7.1
TouchWiz 7.0
TouchWiz Nature UX 2
Microsoft
Window 10 May 2019 Update
Window 10 Anniversary Update
Window 10
Window 8.1
Window 8.0
Codepoints
💚 U+1F49A
Shortcodes
:green_heart: (Slack, Github)
green emoji
green heart
green heart emoji
green heart emoji meaning
heart copy and paste