❤️‍🔥 Heart On Fire Emoji
Heart on Fire Emoji Meaning: ❤️‍🔥
The Heart on Fire Emoji ❤️‍🔥 represents an extreme form of love that is very passionate and strong. It depicts love, lust, desire, craziness, and a sense of past love that was once very deep.
This "Burning Heart" emoji also embodies the intense liking of someone or something which sets your heart on fire. Mainly, a heart flame represents the burning passion and desire our hearts possess.
This burning heart emoji is a combination of two emojis, i.e. red heart emoji ❤️ and the orange fire emoji🔥 . You may notice that this emoji doesn't always display as a single emoji on all platforms. It can also be used in the sense of saying that "You set my heart on fire!" or "My heart burns for your love!".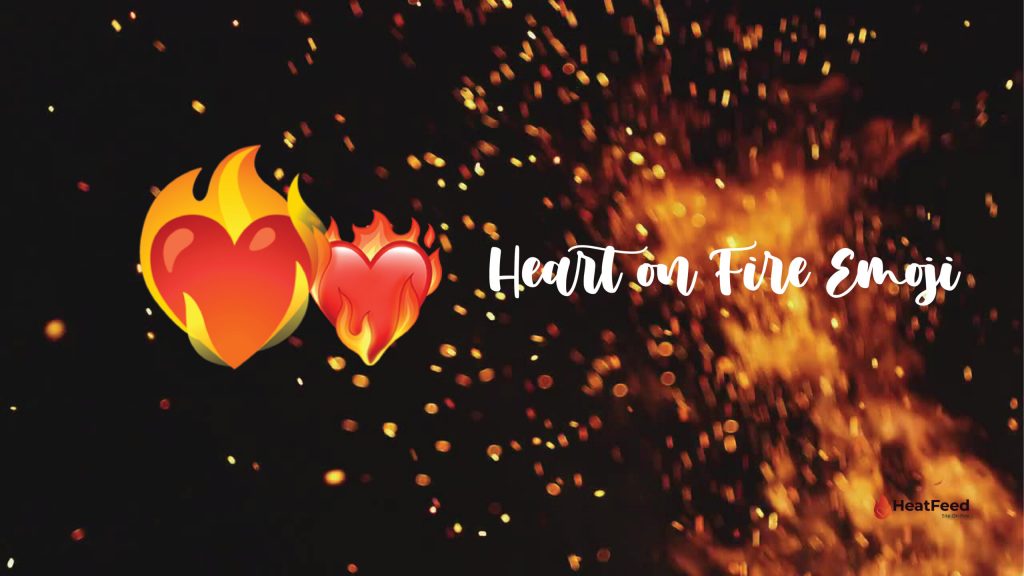 | | |
| --- | --- |
| Emoji: | ❤️‍🔥 |
| Name : | Heart on Fire Emoji | Burning heart emoji |
| Meaning: | Passion, desire, an extreme form of love |
| Unicode version: | None |
| Emoji and IOS version: | Emoji 13.1 and IOS 14.5 |
When was Heart on Fire Emoji added?
The Heart on Fire Emoji copy paste❤️‍🔥 (aka the burning heart emoji) was added to Emoji 13.1 in the year 2020. This emoticon has been added to the most updated IOS and heart on fire emoji for Android devices in 2021.
On its supported platforms, this emoji is represented by a combination of the classic 'Red Heart Emoji ❤️ " and the "Fire Emoji 🔥 "
As of July 2021, Google, Mac, and Apple support the Heart on Fire Emoji. Major social media platforms including Instagram, Twitter, WhatsApp, and Facebook now also support the use of this emoji. The heart on Fire love emoji appears like a red heart that is sitting in orange flames also named as flame heart emoji.
How to Heart With Fire Emoji ❤️‍🔥 Copy and Paste?
Open heatfeed.com to enjoy the feature of heart on fire emoji copy and paste and other favorites of more than 10000 emojis copy and paste for free.
Click on the "Click to Copy Button" and it will automatically get copied to the clipboard of your smartphone or whatever device you may be using. You can also copy the emoji using the right-click menu or fire heart emoji copy by pressing CTRL+C.
Now, just paste it anywhere you like. You can paste them using the usual keyboard commands like "CTRL+V" or by pressing the "Paste" option from the pop-up menu.
You can copy & paste the Heart with Fire emoji and use it on all major social media platforms, such as Facebook, Twitter, Instagram, Tumblr, etc.
However, not all devices or platforms support this emoji yet. Adding to that, the exact appearance of this emoji may differ, as it mainly depends on the operating system and Chrome version your device has.
Who uses the red fire heart emoji?
This flame heart emoji or flaming heart emoji mainly represents a type of love that is extremely strong and passionate.
This burning heart emoji also depicts the intense liking of something or someone. This red fire heart emoji copy and paste has become very popular nowadays and is being used in various situations, for example: 
Do you like using our emoji copy/paste tool? If you have any queries regarding this emoji then let us know in the comments section down below!
Lavish combination to use Heart Fire Emoji
Use the text with a heart fire emoji copy to express the warmth of your heart or emptiness of your heart.
Pain and struggle give us power ❤️‍🔥
Love yourself and love one another ❤️‍🔥
A fire inside burns me & makes me alive ❤️‍🔥
To you, I am not perfect ❤🔥 🔥❤
Forgetting is too long ❤🔥 ❤️‍🩹
Your voice is my favorite sound ❤️‍🔥 and your kisses 💋are my favorite dessert 😋
Forgetting is all about ❤+🔥=❤🔥
Similar Emojis:
Similar emojis exit of heart with fire emoji as a fire engine 🚒, mending heart ❤️‍🩹, fire extinguisher 🧯, name badge 📛, heart suit ♥️, firecracker 🧨, collision 💥, heart decoration emoji 💟, beating heart emoji 💓, purple heart emoji 💜, orange heart emoji 🧡, heart with arrow emoji 💘, coupled with heart 💑, green heart emoji 💚, white heart emoji 🤍, heart with ribbon emoji 💝, and many others new heart emoji copy and paste having a particular meaning, symbols, and messages. Our website facilitates you with a fire heart copy and paste option and many other fire emojis. You can also get the exact meanings of emojis, Unicodes, and Shortcodes.
iPhone Fire Heart Emoji:
Apple's beta release of iOS 14.5 includes a preview of the new emoticon, including a heart on fire, and more skin tone variations for emojis including a couple kissing, and an exhaling face. The fresh fire heart emoji that appears in iOS 14.5 will set your heart afire.
This is how the ❤️‍🔥 fire heart emoji seems on iOS 14.5. This iPhone fire heart emoji appears as a single emoji and generally expresses the meaning of desire, love, sadness, and lust. You can iPhone heart emoji copy and paste/fire heart emoji iPhone copy and paste on our specially designed emoji site.
Samsung
One UI 4.0 January 2022
One UI 4.0

Google
Andriod 12.0
Android 11.0 December 2020 Feature Drop
Codepoints
❤️‍🔥 U+2764
U+FE0F
U+200D
❤️‍🔥U+1F525
fire emoji copy and paste
heart on fire
heart on fire emoji