💟 Heart Decoration Emoji
Heart Decoration Emoji Meaning:
A heart decoration emoji is displayed as a white heart-shaped cutout in a purple or pink square. It is used to express positive emotions, affection, and love. This emoji is used along with other heart-based emojis also.
NOTE: It was approved as part of Unicode 6.0 in 2010 and added to Emoji 1.0 in 2015.
Similar Emojis:
There are a lot of similar emojis exist as heart exclamation ❣️, Rosette 🏵️, Fleur-de-lis ⚜️, yellow heart 💛, heart with ribbon 💝, black heart 🖤, orange heart 🧡, beating heart 💓, growing heart 💗, purple heart 💜, white heart 🤍, green heart 💚, resolving heart 💞, heart with arrow 💘, brown heart 🤎, red heart ❤️, coupled with heart 💑, blue heart emoji 💙, two hearts 💕, broken heart 💔, and many others emojis in which each particular heart emoji has a specific message.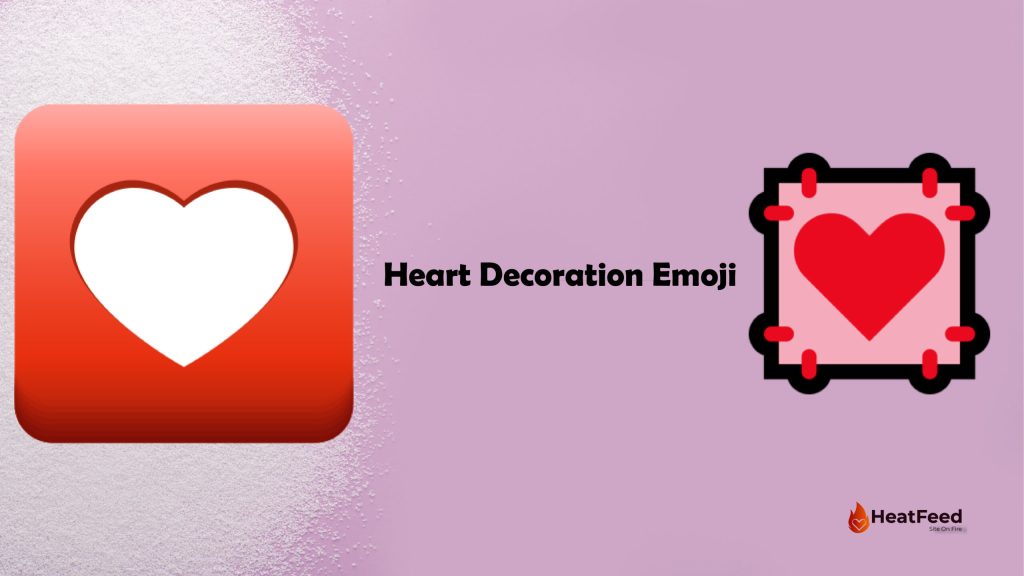 How to copy-paste the Heart Decoration emoji?
Have you ever found yourself needing to copy and paste an emoji but didn't know where to begin? Well, we have the solution for you! At our website heatfeed.com, we make it easy for you to heart decoration emoji copy and paste with just one click. And if you need to copy and paste more than one emoji, no problem! You can actually copy and paste up to 10,000 emojis without facing any hurdle!
Start your emoji journey by visiting our website.
Once you're there, find the search bar and type or paste in the name of the emoji you're looking for.
Click "search" and you'll see the "copy" icon next to the emoji. If you want to use the emoji, click on the icon and it will be copied to your device.
You can now paste it anywhere you'd like!
Apple Name
💟 Heart Decoration
Apple



Apple

iOS 15.4

iOS 10.2

iOS 8.3

iOS 6.0

iOS 5.1

iOS 4.0

iPhone OS 2.2
Google



Google

Android 12L

Android 11.0

Android 10.0

Android 8.0

Android 7.0

Android 5.0

Android 4.4

Android 4.3
Samsung


Samsung

One UI 4.0 January 2022

One UI 1.0

Experience 9.1

Experience 9.0

TouchWiz 7.1

TouchWiz 7.0

TouchWiz Nature UX 2
Microsoft



Microsoft

Windows 11 November 2021 Update

Windows 10 Anniversary Update

Windows 10

Windows 8.1

Windows 8.0
WhatsApp



WhatsApp

2.22.8.79

2.17
Twitter



Twitter

Twemoji 14.0

Twemoji 11.1

Twemoji 1.0
Facebook



Facebook

14.0

3.0

2.0

1.0
Codepoints
💟U+1F49F
Shortcodes
: heart_decoration : (Slack, Github)
emoji copy and paste
heart decoration emoji
heart emoji
heart emoji copy and paste