🔥 Fire Emoji
Fire Emoji Meaning:
Fire emoji is used to express something cool, exciting, awesome, on fire, and colloquially. It can also be used to say someone is sexy or hot. This nature emoji is mostly yellow with a little red on the top. Fire in a text is also used for passionate love, burning love, and intense liking of someone or something.
NOTE: The Unicode 6.0 fire emoji was approved in 2010 and added to emoji 1.0 in 2015.
| | |
| --- | --- |
| Emoji | 🔥 |
| Name | Fire |
| Meaning | Hot, Exciting, Awesome |
| Unicode version: | U+1F525 |
| Emoji and IOS version: | Emoji and IOS |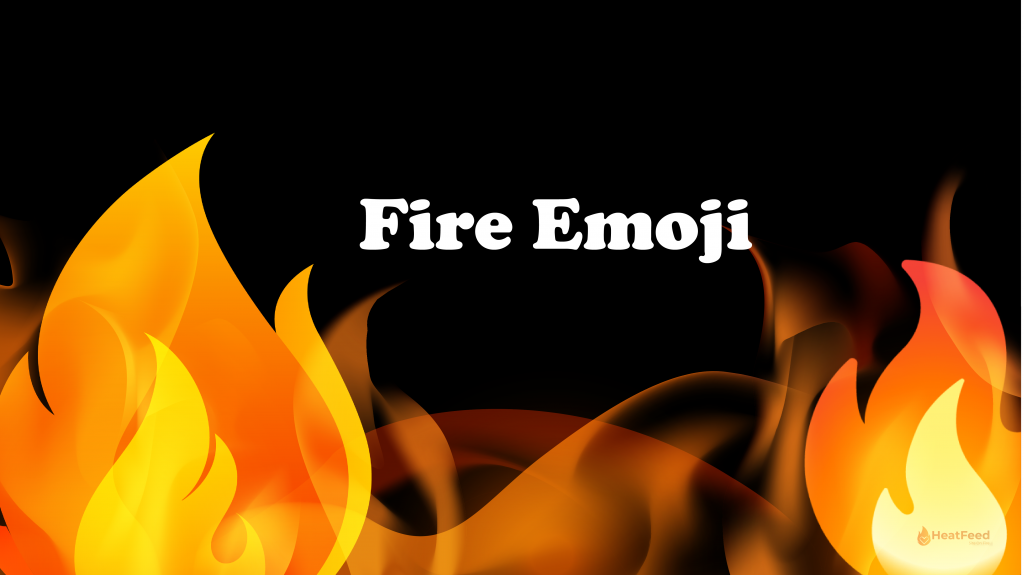 Snapchat Fire Emoji:
On Snapchat fire 🔥/fire emoji on Snapchat/fire emoji Snapchat is displayed next to two users who are on a snap streak and messaging for consecutive days.
When Was Fire Emoji Introduced To The Emoji Category?
Fire emoji got introduced into the Unicode standard in 2010. Apple upgraded its Fire for iOS 10.2 to make it look more appealing and realistic. For the Windows 10 Anniversary Update, Microsoft gave the previously flat yellow Fire a reddish-orange depth to match Apple's design.
How can you copy and paste the fire emoji?
It's rather very easy to fire emoji copy and paste from the website called heatfeed. Our website contains 10000 emojis copy and paste options, easy to access for emoji lovers. This is how you are going to copy and paste the fire emoji/fire copy and paste:
Get on to the website called heatfeed.com.
Scroll through the search bar and find your favorite emoji.
Once you have opened the page, press the click to copy button to copy the emoji on your keyboard.
Paste your emoji on any social media platform of your choice.
Who uses the novel 🔥 fire emoji?
Fire emoji depicts different meanings. It may display your fire-up, anguish emotions. It may show your vibrant nature, your excitement for something in your life. It could also show that you are feeling hot and attractive. It can also mean that the temperature outside is really hot.
Lush combinations to use 🔥 fire emoji:
A Fire emoji makes astonishing and luxuriant combinations with other emojis. You can enjoy using these combinations while expressing your feelings to others. Look at the following combinations to get an idea,
You can go to hell in your free time.​😈​🔥​⬅️️​🏃​
I saw a hot chick ​🔥​🐥​
I got caught in a crash ​🚘​🔥​🚗​
It's been hot outside​🔥​🔥​🔥​
I am going to eat a hot dog​🔥​🐶​
Similar Emojis:
Similar emojis exit as a fire engine 🚒, fire extinguisher 🧯, Heart on fire ❤️‍🔥, name badge 📛, firecracker 🧨, collision 💥, and many others have a particular message and meaning.
Also Known As
🔥 Flame
🔥 Hot
🔥 Lit
🔥 Snapstreak
Apple Name
🔥 Fire
Apple
iOS 14.6
iOS 10.2
iOS 8.3
iOS 6.0
iOS 5.1
iOS 4.0
iPhone OS 2.2
Google
Andriod 12.0
Android 11.0
Android 8.0
Android 7.0
Android 5.0
Android 4.4
Android 4.3
Samsung
One UI 2.5
One UI 1.0
Experience 9.0
TouchWiz 7.1
TouchWiz 7.0
TouchWiz Nature UX 2
Microsoft
Window 10 May 2019 Update
Window 10 Anniversary Update
Window 10
Window 8.1
Window 8.0
Codepoints
🔥 U+1F525
Shortcodes
: fire: (Slack, Github)
emoji copy and paste
fire
fire emoji
fire emoji copy and paste
heart on fire