Sparkling Heart Emoji 💖
Sparkling Heart Emoji Meaning:
It is a 💖 emoji meaning, a sparkling, shimmering pink sparkle emoji with stars around it. The glimmers of the heart emoji sparkle show love and affection with a playful, happy, and sweet tone. Pink sparkle heart emoji with yellow stars around it gives the impression of deep love and affection for any place or a thing. it is also known as a heart with sparkle emoji. Expressing your feelings in DMs or text is quite difficult, so glitter heart emojis are proven helpful in that case. You just have to understand the exact meaning of the pink heart sparkle emoji to avoid any misunderstanding or wrong message.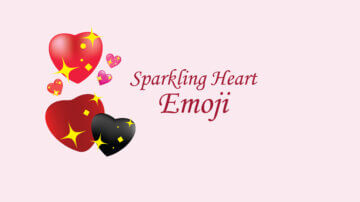 NOTE: The Unicode 6.0 of sparkling heart was approved in 2010 and added to emoji 1.0 in 2015.
| | |
| --- | --- |
| Emoji | 💖 |
| Name | Sparkling Heart Emoji | Sparkle Heart Emoji |
| Meaning | Affection or love in a sweet tone |
| Unicode version | U+1F496 |
| Emoji and iOS version | Emoji 1.0 and IOS 10.2 |
When was the 💖 Sparkling Heart Emoji added?
In 2015 pink sparkly heart emoji was added to emoji 1.0. But it was approved under Unicode 6.0. Its color schemes change according to the platform's design or style. For example on WhatsApp its color is pink, and on Twitter it's red. Mostly it is named as shiny heart emoji, spark heart emoji, or heart emoji sparkles.
Who uses 💖 Sparkle Heart Emoji?
The emotional range of the sparkling heart is far-reaching like other heart-based emojis. It expresses love, affection, or feelings of love in a sweet tone. It may be related to familial love, or convey someone is in love. Sparkle heart emoji copy and paste encourage love, compassion, and kindness.
Lavish Combination to Use Heart Sparkle Emoji
Loving your smile 💖
You look marvelous just the way you are 💖
I will always be grateful to you 💖
It is the best holiday we have ever had together 💑🏖️💖
Kindness conquers all 💖🤍
Its only appreciation which lets you free 💖💖💖
How to copy and paste emojis?
Sparkling heart emoji copy and paste to heat up your conversation with feelings and gestures. Follow the steps given for your guide to 10000 emojis copy and paste:
To get the emoji, you can use the "Click Copy Button" option. This will be activated and will automatically copy your emoji to the clipboard of your smartphone or whatever device you happen to be using.
You can also copy the emoji with right-click menu or by pressing CTRL+C. Now, just paste your heart with sparkles emoji anywhere you like.
You can paste them using standard keyboard commands like CTRL+V or through the pop-up menu by clicking 'Paste'.
Similar Emojis:
There are lots of similar sparkling pink heart emojis that are red heart ❤️, heart with arrow 💘, beating heart 💓, blue heart 💙, revolving heart 💞, white heart 🤍, broken heart 💔, black heart 🖤, green heart 💚, growing heart 💗, purple heart 💜, coupled with heart 💑, brown heart 🤎, two hearts 💕, yellow heart 💛, heart with ribbon 💝, orange heart 🧡, and many others emoji in which each particular heart shows a specific message. Our website heatfeed.com comes with the approximately exact meaning of emojis, Unicode and fire emojis too! We have added an option for you to copy and paste individual emoji characters along with their meanings. Additionally, every social group has special slang words or slang phrases to express feelings, opinions, and ideas.
Also Known As
💖 Sparkle Heart
💖 Sparkly Heart
💖 Stars Heart
Apple Name
💖 Sparkling Heart
Apple
iOS 14.6
iOS 10.2
iOS 8.3
iOS 6.0
iOS 5.1
Google
Android 12.0
Android 11.0
Android 10.0
Andriod 8.0
Android 7.0
Andriod 5.0
Android 4.4
Android 4.3
Samsung
One UI 2.5
One UI 1.0
Experience 9.0
TouchWiz 7.1
TouchWiz 7.0
TouchWiz Nature UX 2
Microsoft
Window 10 May 2019 Update
Window 10 Anniversary Updates
Window 10
Window 8.1
Window 8.0
Twitter
Twemoji 13.1
Twemoji 11.1
Twemoji 1.0
Codepoints:
💖 U+1F496
Shortcodes
:sparkling_heart: (Slack, Github)
heart emoji
heart emoji copy and paste
sparkling heart
sparkling heart emoji
sparkling heart meaning
sparky heart