🤢 Nauseated Face Emoji
🤢🤢🤢🤮🤮🤮 Emoji Meaning: 
Emojis were designed as a way to express feelings symbolically. Nauseated Face emoji is a green face smiley with blank eyes, furrowed brows, and a firmly clenched mouth with flushed cheeks as if holding back vomit. This vomit emoji, as its name signifies, represents a broad feeling of nausea for anything, it could be a video, an image, or even a person. This sick emoji also tells the other person to start thinking and communicating from their head instead of their rectum.
NOTE: In 2016, Emoji 3.0 added this and Unicode 9.0 approved this nausea emoji in 2016.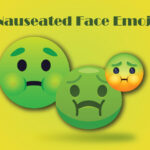 | | |
| --- | --- |
| Emoji: | 🤢 |
| Name: | Nauseated Face |
| Meaning: | Sick, illness, vomit, disgusting |
| Unicode version: | None |
| Emoji and IOS version: | Emoji and IOS |
When was Nauseated Face added to the emojis category?
In 2016, the Nauseated Face emoji was endorsed under Unicode 9.0 and added to the emoticon and smiley category. This emoji is the classic representation of something disgusting.
How Can I Copy-Paste Nauseated Face Emoji?
The most frequent question asked by people that how can they do nauseated face emoji copy and paste. You can easily 10000 emojis copy and paste your favorite emoticon by using heatfeed.com. You have to just follow the steps to perform this task.
Visit heatfeed.com. Find the emoticon that you want to copy and click on it.
Click on the copy icon and immediately it will copy on your device.
Now you are able to paste it on any online platform like Facebook, Instagram, Whatsapp, etc.
Who uses 🤢  Nauseated Face Emoji?
People use this Nauseated emoji when they are talking about something disgusting. And, also when they talk about their illness with their friend. People also use this emotion to indicate vomiting. A few people use this emoji in the caption of food images when they don't like the taste of the food. It is used to indicate physical nausea or psychological nausea.
Lavish combination to use 🤢  Nauseated Face Emoji
Lavish combinations are a set of different emojis that are placed together to make more accurate sense in your text and also express your feelings. Below are the ideas for using the Nauseated face emoji with other emojis:
People like you make me sick 🤢🤮😑
This food is so disgusting I almost vomited 🤢🤮🤮
Yuck! that dead rat is so disgusting! I better get out of here before I 🤮🤢
You should pay attention to your diet otherwise it will make you sick 🤢🤒😷
Ewwww!! That looks so gross🤢😞😩
​🌄​🛏​🤢​🤒 Morning Sickness
​🤢​🤮​🛏​😩 Hangover
​💀🤮​🤢​ Poisoning 
Similar Emojis
There are some other emojis that are similar to 🤢 Nauseated Face emoji are 🤮 Face Vomiting, 🤕 Face with Head-Bandage, 🤒 Face with Thermometer, and 😷 Face with Medical Mask emoji. Every emoji among numerous others passes on a special message.
Also Known As
🤢 Disgusted Emoji
🤢 Green Face
🤢 Vomit Emoji
🤢 Yuck Face
🤢 Puke Emoji
🤢 Puking Emoji
🤢 Cringe
🤢 Grossed Out
🤢 Terrible Food
🤢 Sick Emoji
Apple Name
🤢 Nauseated Face
🤢 Nauseated Face Emoji look across various devices
The look of every emoji varies with the different devices and platforms. It is because every web service, OS, and Gadgets manufacturer designs them with particular ideas and sources. We have drawn a table of Nauseated Face Emoji on different devices. So, you can easily check out the difference in the appearance of this emoji. 
Apple

Apple

iOS 14.6

iOS 10.2
Google

Google

Android 12.0

Android 11.0

Android 9.0

Android 8.0

Android 7.0
Samsung

Samsung

One UI 3.1.1

Experience 9.0

TouchWiz 7.1
Microsoft

Microsoft

Windows 10 May 2019 Update

Windows 10 Anniversary Update
WhatsApp

WhatsApp

2.21.11.17

2.19.7

2.17
Twitter

Twitter

Twemoji 13.1

Twemoji 2.1
Facebook

Facebook

13.1

3.0

2.0
Codepoints
🤢 U+1F922
Shortcodes
:nauseated_face: (Github, Slack)
emoji copy and paste
emoji meaning
Nauseated Face emoji
Smiley Emoji