🤒 Face with Thermometer Emoji
Face with Thermometer Emoji
🤒Meaning Of This Emoji: 
Emojis were created as a way to express feelings symbolically. Face with thermometer emoji is a yellow face smiley having a sorrowful curve for a mouth with a thermometer in it, blank eyes, and tired eyebrows. This emoji signifies being physically ill, 'under the weather,' or having the flu.
If you are caught up in any kind of atrocity whether due to weather or any other reason you may show this sort of emoji to your friend. They may have a solution for you. If you want to make an excuse for not showing up somewhere, this emoji would help you do so.
NOTE: In 2015, Emoji 1.0 added and endorsed this sick emoji to Unicode 8.0 in 2015.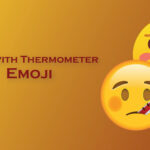 How to copy-paste a face with a thermometer emoji?
A face with a thermometer emoji is important. It shows the illness, fatigue, and tiredness. If you feel the same you can use this emoji too. This emoji is popular due to the feelings it let the people express. If you want to copy and paste a face with a thermometer emoji, follow the rules given below,
Go to the link given, you will reach the website heatfeed.com
You will see a search bar on the website, click it and 10000 emojis copy and paste here.
 Click on that button and this is how your emoji shall be pasted.
Similar Emojis:
There are some other emojis that are similar to 🤒 Face with Thermometer 😷 Face with Medical Mask emoji, 🤕 Face with Head-Bandage, 🤢 Nauseated Face, and 🤧 Sneezing Face emoji. Each emoji drives a unique message, among many others.
Also Known As
🤒 Ill Emoji
🤒 Sick Emoji
🤒 Fever Emoji
🤒 High-Temperature
🤒 Thermometer Emoji
Apple Name
🤒 Face with Thermometer
Apple

Apple

iOS 14.6

iOS 10.2

iOS 10.0

iOS 9.1
Google

Google

Android 12.0

Android 11.0

Android 8.0

Android 7.0

Android 6.0.1
Samsung

Samsung

One UI 3.1.1

One UI 2.5

Experience 9.0

TouchWiz 7.1

TouchWiz 7.0

TouchWiz 6.0
Microsoft

Microsoft

Windows 10 May 2019 Update

Windows 10 Anniversary Update
WhatsApp

WhatsApp

2.21.11.17

2.19.7

2.17
Twitter

Twitter

Twemoji 13.1

Twemoji 2.7

Twemoji 2.0
Facebook

Facebook

13.1

3.0

2.0
Codepoints
🤒 U+1F912
Shortcodes
:face_with_thermometer: (Github, Slack)
emoji copy and paste
emoji meaning
Face with thermometer emoji
Smiley Emoji