😷 Face with Medical Mask Emoji
Face with Medical Mask Emoji
Face With Medical Mask Emoji Meaning: 
Emojis were designed as a way to express emotions symbolically. Face with Medical Mask emoji is a yellow face smiley with a mask covering the lower half of the face and closed, drooping eyes. During a pandemic, health personnel in hospitals and the general public wear a white surgical masks. 
This mask emoji represents physical sickness or a reaction to anything disgusting, unpleasant, unsettling, or horrible. The emoji Mask symbolizes 'covering up' or masking up' for health safety in general, in addition to being the current situation (2020 – COVID 19).
Face with a medical mask emoji should also be used when you need to tell somebody that you are not comfortable with your surroundings. It may tell others that you are sitting with some obnoxious people and you cannot leave them instantly.
NOTE: The mask emoji was endorsed as part of Unicode 6.0 in 2010 and added to Emoji 1.0 in 2015. In the year 2020, this emoji was mostly associated with Coronavirus / COVID-19.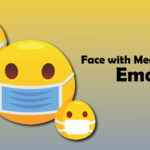 How to copy-paste a face with a medical mask emoji?
A face with a medical mask emoji is used to show personal feelings like avoiding something, showing indifference, or ineffectiveness. If you want to copy-paste a face with a medical mask emoji then do it on heatfee.com. Heatfeed is such a website that has a large directory of emojis, you can 10000 emojis copy and paste too. Follow the primary steps to get there,
Go to the website mentioned as heatfee.com
Search your emoji on the search bar.
After searching for your emoji you can copy it from the copying button.
Paste it anywhere you like to paste it.
Similar Emojis:
There are some other emojis that are similar to 😷 Face with Medical Mask emoji 🤒 Face with Thermometer, and 🤕 Face with Head-Bandage. Every emoji passes on a unique message, among many others.
Also Known As
😷 Coronavirus
😷 COVID-19
😷 Mask Face
😷 Surgical Mask
😷 Masked Face
😷 Face Mask
😷 Sick Face
😷 Emoji Mask
Apple Name
😷 Face with Medical Mask
Apple

Apple

iOS 14.6

iOS 14.2

iOS 10.2

iOS 10.0

iOS 8.3

iOS 6.0

iOS 5.1

iOS 4.0
iPhone OS 2.2
Google

Google

Android 12.0

Android 11.0

Android 10.0

Android 8.0

Android 7.0

Android 5.0

Android 4.4

Android 4.3
Samsung

Samsung

One UI 3.1.1

Experience 9.1

Experience 9.0

TouchWiz 7.1

TouchWiz 7.0

TouchWiz Nature UX 2
Microsoft

Microsoft

Windows 10 May 2019 Update

Windows 10 Anniversary Update

Windows 10

Windows 8.1

Windows 8.0
WhatsApp

WhatsApp

2.21.11.17

2.19.7

2.17
Twitter

Twitter

Twemoji 13.1

Twemoji 1.0
Facebook

Facebook

13.1

4.0

3.0

2.0

1.0
Messenger

Messenger

1.0
Codepoints
😷 U+1F637
Shortcodes
:mask: (Github, Slack)
emoji copy and paste
emoji meaning
Face with Medical Mask emoji
Smiley Emoji