🤧 Sneezing Face Emoji
Sneezing Emoji Meaning:
Emojis were created as a way to symbolically address emotions. Sneezing Face emoji is a yellow face smiley with squinted eyes and a sardonic smile hidden by a handkerchief held out by an imaginary hand. This coughing emoji presents that someone has a cold, or an allergy, or it could also represent someone in an emotional state.
NOTE: The sneezing emoji was included as a feature of Unicode 9.0 in 2016 and added to Emoji 3.0 in 2016.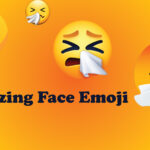 How to copy-paste the sneezing face emoji?
The sneezing emoji copy and paste option are utilized by many internet users. You can get the emoji from the websites like heatfeed which has 10,000 emojis copy and paste options. Follow the following procedure to copy your emoji.
Get to the website www.heatfeed.com to copy the emoji.
Search your fav emoji from the search bar here.
Copy the emoji by clicking the icon 'copy the emoji'.
Paste it on your desired space like social media portals etc.
Similar Emojis:
🤧 Sneezing Face emoji and 🤮 Face Vomiting emoji are similar in appearance. Every emoji among numerous others passes on an exceptional message.
Also Known As
🤧 Gesundheit
🤧 Sick Emoji
🤧 Allergies
🤧 Sneezing
🤧 Sneeze Emoji
🤧 Cold Emoji
🤧 Emotional Face
🤧 Blowing Nose Emoji
🤧 Running Nose
🤧 Sad and I'll Face
Apple Name
🤧 Sneezing Face
Apple

Apple

iOS 14.6

iOS 10.2
Google

Google



Android 12.0

Android 11.0

Android 10.0

Android 8.0

Android 7.0
Samsung

Samsung

One UI 3.1.1

Experience 9.0

TouchWiz 7.1
Microsoft

Microsoft

Windows 10 May 2019 Update

Windows 10 Anniversary Update
WhatsApp

WhatsApp

2.21.11.17

2.19.7

2.17
Twitter

Twitter

Twemoji 13.1

Twemoji 13.0.2

Twemoji 2.1
Facebook

Facebook

13.1

4.0

3.0

2.0
Codepoints
🤧 U+1F927
Shortcodes
:sneezing_face: (Github, Slack)
emoji copy and paste
emoji meaning
Smiley Emoji
Sneezing Face emoji