🚀 Rocket Emoji
Rocket Emoji Meaning 
A 🚀 rocket emoji meaning is used to push and fly something through the air. Rocket emoji copy and paste just looks like it sounds like it's a Rocket, flying up, not used in its most direct meaning traveling towards space. It is a quite popular emoji. It may also be used as a symbol for energy and speed. A rocket being got moving into space, for instance referring to the stocks that going to the moon 🚀. The fins on a rocket ship emoji help keep it headed in the correct direction and stabilize it. Pushed out back the fuel and ignited (burned) to propel it forward. The 'rocket' emoji is a special symbol that can be used on tablets, smartphones, and computers.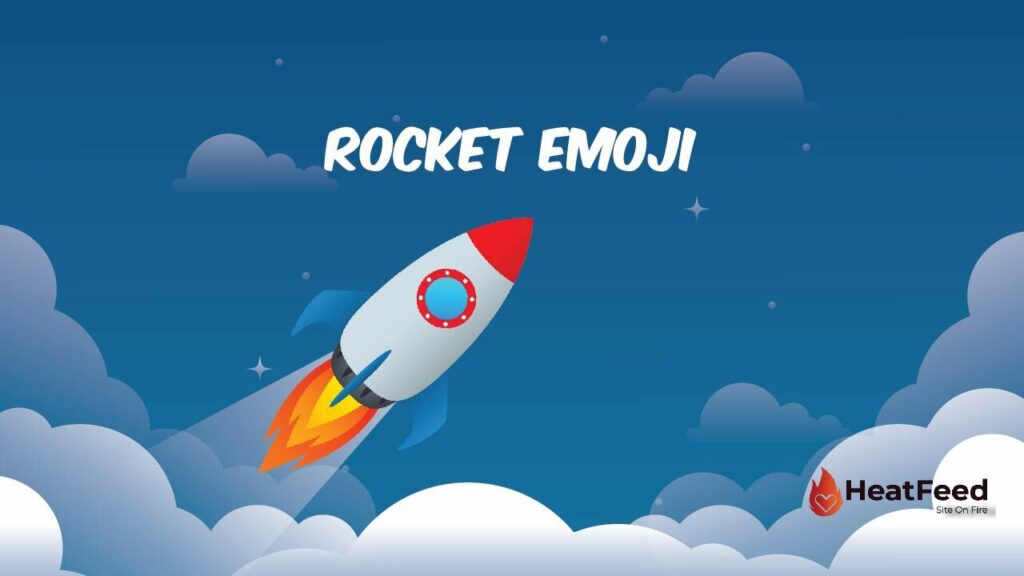 To put people and objects into space, large powerful rocket ship emoji meaning are used. Space Administration (NASA)  and Aeronautics use rockets at the Kennedy Space Center. Once Buzz Lightyear said that "to infinity and beyond" to the moon. Often people use it for expressing exhilaration or fascination with something cool.
Note: In 2010 Rocket was approved as part of Unicode 6.0 and in 2015 added to Emoji 1.0. An example of this emoji🚀 is; I'm determined to achieve all my goals 🚀. Emoji rocket placed together just like a bunch i.e; Gravity ​🚀​✨​🙎​🌎​.
Similar Emoji
✈️ Airplane, 👾 Alien Monster, 🦴 Bone, 📈 Chart Increasing, 💹 Chart Increasing with Yen, ☄️ Comet, 👽 Alien, 🇦🇨 Flag: Ascension Island, 🛸 Flying Saucer, 🌌 Milky Way, 💸 Money with Wings, 🛢️ Oil Drum, 🖖 Vulcan Salute, 🛰️ Satellite, 🔭 Telescope, 👩‍🚀 Woman Astronaut
Also Known As
🚀 Rocket Ship
🚀 Space Shuttle
Apple Name
🚀 Rocket
| | |
| --- | --- |
| Apple | |
| iOS 14.6 | |
| iOS 10.2 | |
| iOS 8.3 | |
| iOS 6.0 | |
| iOS 5.1 | |
| iOS 4.0 | |
| iPhone OS 2.2 | |
| | |
| --- | --- |
| Google | |
| Android 12.0 | |
| Android 8.0 | |
| Android 7.0 | |
| Android 5.0 | |
| Android 4.4 | |
| Android 4.3 | |
| | |
| --- | --- |
| Samsung | |
| One UI 3.1.1 | |
| One UI 1.0 | |
| Experience 9.0 | |
| TouchWiz 7.1 | |
| TouchWiz 7.0 | |
| TouchWiz Nature UX 2 | |
| | |
| --- | --- |
| Microsoft | |
| Windows 11 | |
| Windows 10 May 2019 Update | |
| Windows 10 Anniversary Update | |
| Windows 10 | |
| Windows 8.1 | |
| Windows 8.0 | |
| | |
| --- | --- |
| Twitter | |
| Twemoji 13.1 | |
| Twemoji 1.0 | |
| | |
| --- | --- |
| Messenger | |
| 1.0 | |
Codepoints
🚀 U+1F680
Shortcodes
:rocket: (Github, Slack)
copy & paste emoji
emoji
emoji copy and paste
rocket emoji