⚠️ Warning Emoji
Emoji Meaning
For alert or warning emoji, a triangle with an exclamation mark inside is used as a warning symbol. Be careful when you see this sign because it is alerting you about all dangers or dangerous items. People thinks that warning and 🚫 emoji is similar. But both are different emoji warn sign means to be careful about situation or prohibited means avoid a person. Warning sign emoji refers to warn about all type of dangers to do safety arrangements.
The color emoji alert sign emoji is different on all platforms depending on platforms design or style. Like Instagram, Facebook, and Twitter.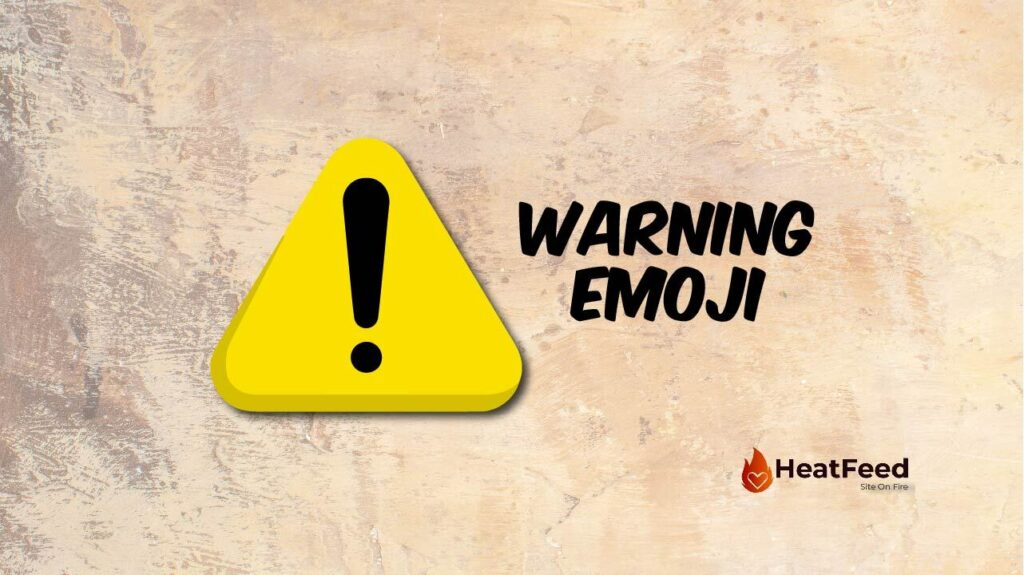 Similar Emoji
Alert emoji has many similar emojis like 🚸 Children Crossing, 🏚️ Derelict House, ♀️ Female Sign, ♂️ Male Sign, 🛑 Stop Sign, ☮️ Peace Symbol, 🛟 Ring Buoy, 💛 Yellow Heart.
Also Known As
⚠️ Alert Symbol
NOTE: In 2003 under the name "warning Sign" this emoji was accepted as part of Unicode 4.0 and in 2015 it was added to Emoji 1.0.
Apple Name
⚠️ Warning
Unicode Name
⚠️ Warning Sign
| | |
| --- | --- |
| Apple | |
| iOS 14.6 | |
| iOS 10.2 | |
| iOS 8.3 | |
| iOS 6.0 | |
| iOS 5.1 | |
| iOS 4.0 | |
| iPhone OS 2.2 | |
| | |
| --- | --- |
| Google | |
| Android 12L | |
| Android 12.0 | |
| Android 8.0 | |
| Android 7.0 | |
| Android 4.4 | |
| Android 4.3 | |
| | |
| --- | --- |
| Samsung | |
| One UI 3.1.1 | |
| One UI 1.0 | |
| Experience 9.0 | |
| TouchWiz 7.1 | |
| TouchWiz 7.0 | |
| TouchWiz Nature UX 2 | |
| | |
| --- | --- |
| Microsoft | |
| Windows 11 | |
| Windows 10 May 2019 Update | |
| Windows 10 April 2018 Update | |
| Windows 10 Anniversary Update | |
| Windows 10 | |
| Windows 8.1 | |
| Windows 8.0 | |
| | |
| --- | --- |
| Twitter | |
| Twemoji 13.1 | |
| Twemoji 1.0 | |
| | |
| --- | --- |
| Messenger | |
| 1.0 | |
Codepoints
⚠ U+26A0
U+FE0F
Shortcodes
:warning: (Github, Slack)
alert symbol
emoji
emoji copy and paste
emoji meaning
triangle
warning emoji
warning sign
warning symbol